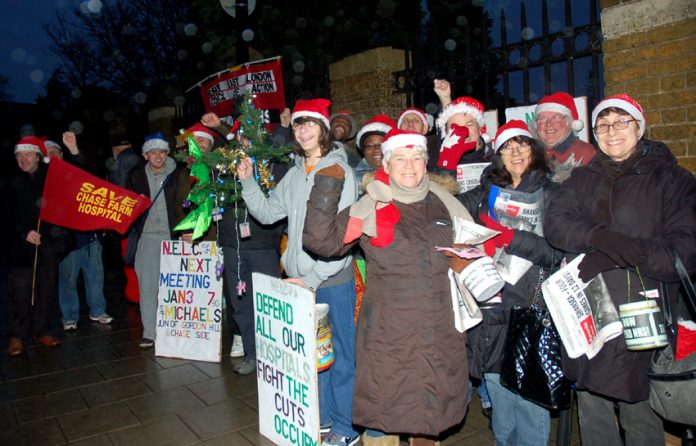 THE North East London Council of Action organised a mass Xmas Picket outside the Chase Farm Hospital yesterday to step up the fight to occupy the hospital and stop the closure of its Maternity, Paediatrics and A&E departments.
There was more support than ever as patients, doctors, nurses, other staff and local residents expressed their determination to keep the services running by all means necessary.
Roy Elphick, a nurse, told News Line: 'We have such an arrogant government, they will try and demonise our struggle at Chase Farm Hospital.
'I fully support the action of occupation that we are going to be taking.
'I am proud that there are people like you around.'
Nurse Bose Badatola-Ojo said: 'They shouldn't close down Chase Farm. For the sake of the children and for the sake of the elderly they must be considerate.
'When they close this down, where are they meant to go?
'Anything people do to save Chase Farm I support it, including occupying the hospital to stop the closure.
'We have to keep on fighting.'
Gloria Ankrah, a nurse working in mental health, said: 'I have worked at Chase Farm for 20 years and I am retiring next year in June.
'I have asked for an extension for just six months to stay in the nurses residencies on Chase Farm where I have lived with my husband for two decades.
'But they have given me a court order to kick me out. Why are they kicking me out of my home?
'The nurses homes are being sold off and the nurses that live in them are being evicted.
'I am really angry, I'm going to be homeless. I have no money to go out and rent privately. This is why we must occupy Chase Farm Hospital and we should also occupy the nurses quarters and stop the closure.'
Civil servant Oscar Castillo said: 'I believe the hospital is an integral part of the community structure.
'Closing this will seriously affect the quality and availability of public services, which is unacceptable.
I support the unions taking industrial action to stop the closure of Chase Farm Hospital.'
Michael, who works in medical services, said: 'If these plans go ahead it will affect the local residents badly.
'North Middlesex and Barnet Hospitals are not the easiest places to get to, especially in rush hour and as a result people's lives will be put at risk, so we must keep Chase Farm open.'