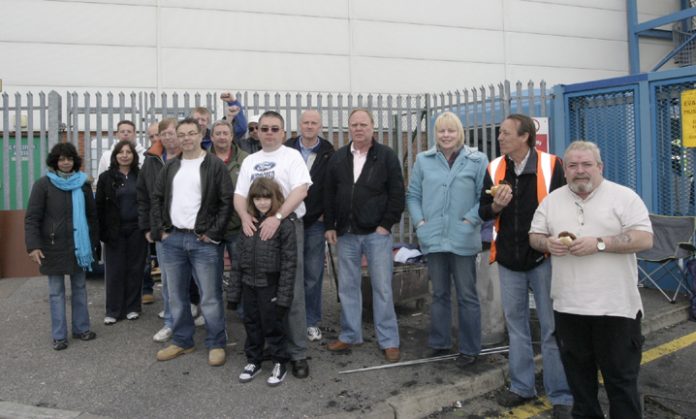 THE Enfield Visteon plant convenor Kevin Nolan told News Line yesterday: 'We have had a meeting with the company in New York. They are back at the table now.
'I went out with our general secretary, Derek Simpson. I gave him all the information that myself and (Belfast convenor) John McGuire and Frank Jepson had.
'They would not let me into the meeting in New York saying they feared for their safety. There was movement in the meeting, so they are back at the table to negotiate some form of package.
'They are coming over next Tuesday for a meeting with all three convenors at a secret location. We are mounting our round-the-clock picket. We have great support. All the gates are fully manned.'
A delegation of sacked Visteon workers from the Basildon plant in Essex visited the picket line in Enfield, north London, yesterday.
Unite member Keith Edmonds told News Line: 'The same is happening to Basildon as is happening to Enfield.
'We've been demonstrating outside the gates since Tuesday, when the plant was closed. We feel disgusted. We are looking for Visteon to be fair to us. We want Ford terms and conditions.'
Unite convenor from Basildon Frank Jepson said: 'It's encouraging that Visteon management have agreed to come over here to talk to us.
'I believe they have given assurances that a package is going to be offered. If they make the mistake of not making that package substantial, they will regret it.
'We're obviously willing to carry on the fight. If they think that, after one-and-a-half weeks our resolve has weakened, they are very much mistaken.
'We have the support of workers across the country. I believe our stand has given hope to every working person in Britain and management cause for concern.'
Enfield Unite member Paul Furniss said: 'I would like to thank everyone that stayed the course inside for the nine days of our occupation.
'We've got Visteon coming over for a meeting on Tuesday and feel we've sent a message that we can't be pushed around.
'We are not going to roll over and let this go. My main concern is getting another job. We want the union to fight for our conditions. We want Ford to honour what they promised.'
Ron Clark said: 'I used to be convenor at Visteon years ago, we have information that Visteon managing director Steve Gawne has registered a new company to carry on with the Visteon footprint.
'We've seen documents that show this was set up in February. Putting Visteon into administration suited the employer. They are making money out of our misery.
'We bent over backwards in making efficiencies to keep the company going. We feel absolutely betrayed. Derek Simpson and (Unite national officer) Roger Maddison had a four-and-a-half hour meeting in America with Visteon senior management.
'It was agreed to have a meeting this coming Tuesday in the UK. We believe they are talking about financial packages, although no money has been put on the table as yet. We are now picketing the factory round the clock.
'Personally I'm looking for my job back. Failing that, the workforce should be treated with a bit of dignity and keep the Ford terms and conditions that were promised to us.
'We've had tremendous support from the public and other unions. On their behalf, we can't afford to walk away from the battle.'
Sacked worker Gillian Howard said: 'I feel shocked, dazed and confused. I worked here for thirty years and feel like I've lost a big part of my life in six minutes.
'All my dreams, my pension, my plans for the future have been taken away in six minutes and they treated the staff the same as the hourly-paid. Everyone was sacked.'