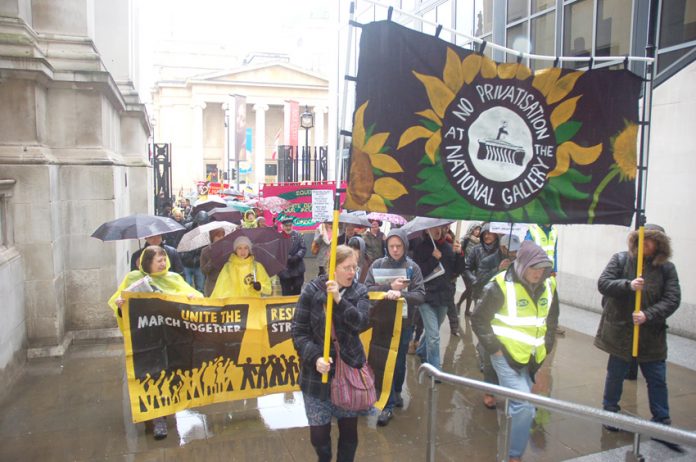 'NO privatisation!' chanted over 70 PCS strikers and their supporters yesterday as they marched off from a rally outside the National Gallery in Trafalgar Square in central London to deliver a letter to gallery trustee's chairman Mark Getty's office near Leicester Square.
Yesterday's lunchtime protest took place on the last day of a second five-day strike by gallery staff over plans to privatise their jobs.
Addressing the rally, Public and Commercial Services union (PCS) assistant general secretary Chris Baugh said: 'PCS members have shown they won't be bullied and we condemn the shameful attack on our senior rep Candy Udwin who has been suspended on trumped up charges.'
Urging management to 'return to procedures', he added: 'We call on all members at galleries and museums to support the fight to reinstate Candy.
'This fight will continue. We've set out proposals on how we can protect the jobs and conditions of our members and cut across any privatisation.
'We've shown how we can change rosters and pay, for the first time, a living wage to our members.
'The National Gallery is the only gallery that is not paying the living wage. In the privatisation plan there is nowhere a requirement to pay a living wage.
'We urge the National Gallery to seriously negotiate with the trade unions.
'This is the time to reassert that services are best provided through public ownership.'
Suspended senior PCS rep Candy Udwin said: 'The security firm don't know about paintings, we do. Why don't the gallery want people who care about paintings?
'Privatisation is not just happening here, it's government policy. Management are not listening at ACAS. We are prepared to take more action.' She added: 'People from all round the country have given their backing. That support gives us hope.'
Azim Hajee, Prospect union officer for the National Gallery, told the rally: 'Your struggle is our struggle. Our members support your struggle to keep public services.
'When management opened discussions on privatisation they invited only the PCS. But on 5th March all the union reps are going to sit down with management.
'The suspension of Candy is disgraceful. It's designed to put not just the PCS but all organisations on the back foot. So full support for Candy, privatisation is not acceptable. People who have been working at the gallery for years have given their utmost.'
Tate Gallery PCS rep James Hill said: 'I've just come from a Tate PCS AGM. We passed a motion of full support for National Gallery workers and reinstatement of Candy. We wish you every success.'
Along with the PCS banner, the rally was joined by a delegation with a banner from actors' union Equity.
A firefighter also joined the rally and there were messages of support from TUC general secretary Frances O'Grady and filmmaker Ken Loach.