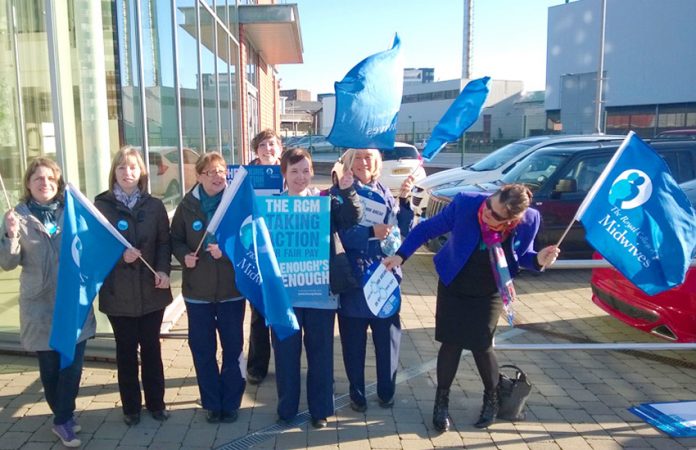 THE RCN and other unions representing health service employees in the UK yesterday called on the NHS pay review body to recommend an above-inflation pay rise.
In the submission the unions have warned that the 1% public sector pay cap is no longer sustainable as trusts already struggle to recruit and retain staff and the NHS faces a workforce crisis.
The submission is calling for a pay increase that begins to bring pay back to historic levels, as well as a return to UK-wide pay scales, with staff in England, Wales and Northern Ireland receiving the same pay rates as staff in Scotland.
Commenting on the submission, Janet Davies, Chief Executive and General Secretary of the RCN said: 'The ongoing erosion of nurses' real-terms pay is unsustainable and puts patient care at risk. Nursing staff are struggling to pay the bills, forced to work extra shifts to make ends meet and some are even relying on foodbanks.
'They have put up with a declining standard of living for six years because of their commitment to caring for their patients, but they can only be stretched so far and we are now in the grips of a recruitment and retention crisis.
'At a time when the gap in earnings between nursing staff and other graduate professions is growing, the 1 per cent pay cap for NHS staff is unsustainable. Trusts are already struggling to recruit, and with an ageing workforce will find it increasingly difficult to persuade nurses to keep working.
'This recommendation is not just about treating staff fairly for the work they are doing. It is about getting a grip on workforce planning in the NHS and helping trusts to recruit and retain the staff they need to provide safe patient care.'
The Unite trade union, with 100,000 members in the health service, has appealed to Chancellor Philip Hammond to make good his pledge when he was appointed chancellor in July that he is prepared to 'reset' the government's economic policy in the autumn statement, due on 23 November.
Unite national officer for health Sarah Carpenter said: 'Since 2010, NHS staff have seen their incomes in real terms eroded by more than 15 per cent which has provoked a recruitment and retention crisis across the NHS.
'It is clear that the one per cent pay cap for NHS staff is completely unrealistic and unsustainable after years of below-inflation pay rises and pay freezes. The scale of the crisis can't be underestimated – vacancies for certain grades of pathology staff are running at up to 70 per cent, with huge agency costs as a result, and morale for the overworked ambulance staff and health visitors is rock bottom.'