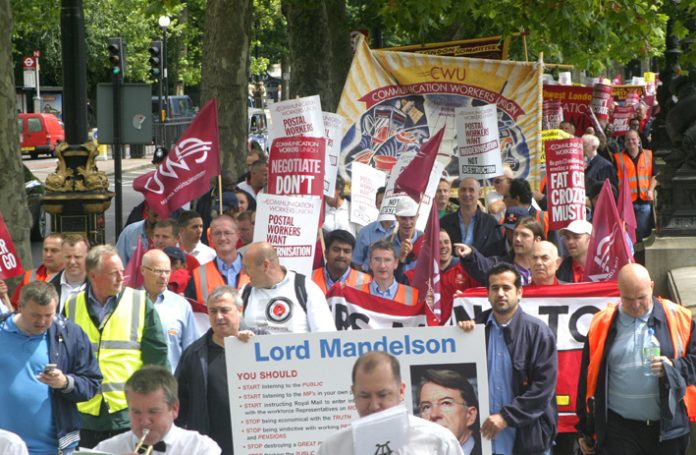 Over four hundred striking Communication Workers' Union (CWU) postal workers yesterday heard calls for a national strike at a rally in Central Hall, Westminster.
Earlier they had marched on Royal Mail head office at Blackfriars shouting (Royal Mail boss) 'Crozier out!'.
A delegation handed in a giant postcard calling for his resignation.
Marchers then proceeded to Parliament Square and waited while another delegation presented a giant postcard to business secretary Mandelson's department, calling on him to 'stop destroying a great public service' and to 'put money in the pension fund'.
Following this, the packed rally at Central Hall was addressed by CWU London Region Secretary Martin Walsh.
He said: 'Royal Mail are trying to destroy the union, to destroy your terms and conditions and jobs.'
He gave examples of post workers having their hours cut and 'losing thousands of pounds'.
He warned: 'They are saying they are bringing in part-timers to do the jobs of full-timers – that is not acceptable.
'Royal Mail decided to break the industrial relations agreement and impose their own conditions on the workforce.
'From next week, they are taking people off their walks to create vacancies.
'This is an employer that is trying to force us out unofficially to destroy the union.
'We need to stick together and we will win this dispute.'
He added: 'It's not a victory until we've beaten this employer and this government.
'As much as we have friends in the Labour Party, the people who make the decisions are for privatisation and do not care much about postal workers.
'We are going to ballot the London Division membership on whether you fund the Labour Party.'
Walsh stressed: 'We need to set a timetable for a ballot of the national union for strike action.
'It's about time the whole of the country came on board, and the sooner the better,' he added to cheers and applause.
He continued: 'The London Divisional Committee is meeting on Monday to decide the next steps.
'We do need a national agreement in place. If we don't our jobs will be destroyed by Royal Mail.
'This dispute is about making sure we have a future.'
London CWU rep Mark Palfrey said: 'We are going to see this through.
'We are striking for all our members, including the young ones that are coming in. We have to stay strong.
'There is a debate about amalgamating with Unite.
'But we don't want to amalgamate with a union when their (Royal Mail) managers (members) scab', he said to applause.
Palfrey continued: 'We are getting more support across the country.
'If it means a national dispute, so be it.'
National officer, CWU assistant secretary (outdoor deliveries) Bob Gibson told the rally: 'The dropping of the privatisation is good news but that is not the end of the story.
'Dropping privatisation was our victory.
'We started a campaign to defend our pensions. The way Royal Mail and the government are dealing with it, you might as well hand money over to a loan shark.
'And if you haven't got a decent industry, you won't have a decent pension.'
He added: 'Royal Mail want a workforce that is totally subservient, that's modernisation to them – no bonus, no overtime.
'This is a row we cannot afford to lose. This is it.
'It's a fight for the future and your families' future, more people are coming into this dispute day by day.'
Bristol CWU branch secretary David Wilshire said: 'We face the same attacks as you in London.
'We've had demos in Bristol today and 20 offices are currently balloting for industrial action.
'We will be looking at taking them out in early August. Members at Plymouth Mail Centre are on strike today.'
He added: 'It's important every one around the country comes into this strike.
'It's got to move towards a national ballot very quickly.
'The mood is there in the union for the biggest "yes" vote we've had for a national strike.'
Workers from the floor demanded to know 'when is the rest of the country going to be involved?'