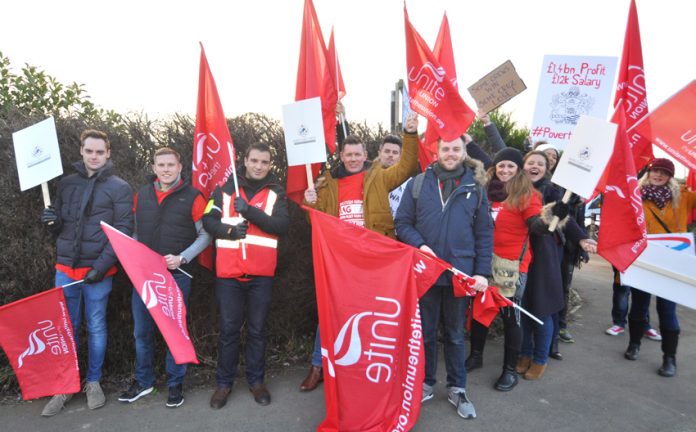 A HUNDRED British Airways mixed fleet cabin crew, members of Unite, attended a rally at the Bedfont Sports centre at Heathrow yesterday morning to launch their three-day strike action over poverty pay.
The crew members took two days of strike action last week but are stepping up their action because they are angry that the company is not responding to their demands to significantly increase their basic pay which begins at only £12,192.
Hayes and Harlington MP and Shadow Chancellor John McDonnell addressing the rally said: 'I'm here in an act of solidarity. This company will not respect its workers, yet is making billions in profits. On the wage they are offering you just can't keep a roof over your head.
'If there had been reasonable negotiations this dispute would have been settled months ago. Because of the company's attitude, an erosion of the wages will erode the service. People don't go on strike easily. Those who take industrial action today are the heroes and heroines of the movement.
'You are doing the right thing, and it will force the company back to the negotiating table. We've got to stay strong. It takes courage standing against the stream. The secret is together we are strong, it is solidarity above all else.'
Peter Kavanagh, Unite London & Eastern regional secretary told the rally: 'You work for the premier airline in Britain with a turnover of billions and yet are fighting for an end to poverty pay. This is potentially a long and hard struggle, but we have sent a letter to 500 Unite branches and we are confident of their support. Mixed crew fleet can't do it on their own, that's why 800 more have joined the union.'
Striker Rose Clode told News Line: 'The mixed fleet crews are mainly young people who thought that unions belonged to the 1970s but their enthusiasm today is an inspiration to the trade unions and the future.'
After the rally, the strikers marched off to set up all-day picket lines around the airport.