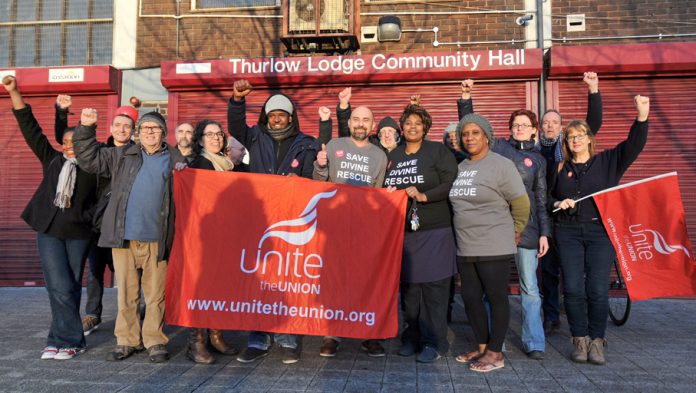 'WE will not stand down! We are here with our "street friends",' Sister Catherine, lead organiser for Divine Rescue Charity said inside the occupied Thurlow Park Community Centre.
'We are NOT going nowhere!!! And we are going to fight for our "street friends",' she added. Homeless people, volunteers and organisers from the Divine Rescue project are fighting eviction from the Aylesbury Estate's Thurlow Park Community Centre by Southwark Council.
Sister Catherine continued: 'We have to bring in everybody who is going to be on our side because Divine Rescue helps a lot of people. We have seen people's lives turned around. People have come off drugs. Crime has reduced in the community.
'So we are not going nowhere. We are staying here. We want justice for the homeless. And we are their voice. We will keep on fighting until we win this battle. We are saying, the Council has to be on our side. It needs to know that Divine Rescue is having an impact. We are here and we are staying. We are not moving at all.'
Last week, Southwark Council (where the Labour Party has a large majority– 32 out of 45) attempted to close the Thurlow Park Community Centre by breaking up the facilities.
They were physically stopped by the unions, including Unite, community organisations and the Occupy movement, who pointed out that the Council's deliberate damaging the electricity outlets could lead to fire.
The Council then gave Divine Rescue a 20-day reprieve saying they would rehouse the organisations, and denying they intend to hand the community centre over to privateers.
But many believe the councillors are being two-faced, giving themselves two weeks to organise a forceful eviction sometime in the near future. The Council have pleaded with the organisations not to publicise the dispute in the media.
Sister Catherine added, 'We have been here for so many years. People come here for food. Imagine people who are homeless, coming here to be told that the charity that helps them has become homeless ourselves.
'My heart is broken! My heart is bleeding! I feel so much pain that we have to go through this stuff. We are not supposed to be going through this barbarity,' she continued. 'We are helping the helpless! We are making an impact. More than any other organisation. We have families, and people who are isolated, they come here for food.'
Nason Msohi said: 'The Council claim that the previous TIA who were running this centre, handed it back to the council. Divine Rescue has been in this building for well over seven years, and the local authority should be more sympathetic to what we are doing for the community.
'We feel we are part of the solution to the problem and challenge of hopelessness in the community and we feel that we should be treated better. We have to put the interests of the homeless and the community first. A lot of low income families – not just the homeless – depend on this charity, because they have been unable to access social service or support.
'But what has compounded this issue, it would appear, is that the council are trying to make a profit, which is the motivating factor of all these actions – the money aspect of it over the human aspect of it. It is a gross injustice, Human beings should always come first when making these social decisions.
'What the capitalists are doing is coining big words like "regeneration" to cover up what is essentially the social and economic cleansing, the displacement of the weak. Our view is that the weak have the right to exist as well. This "regeneration" is about creating a Utopia – expensive luxurious lifestyles – that ordinary people and families cannot afford. This is "Criminal Capitalism".
'They are engaging in some form of displacement, a disguised discrimination, against low income families. When someone is already on the floor you do not start kicking them in the head.'
Msohi continued: 'For the moment, the Council have held back and given us a moratorium for 20 days. We have huge support in the community and the media, who should be commended for coming to the defence of the weak and seeing the council off, because without you, we would be finished.
'We have been overwhelmed with messages of solidarity and fraternal greetings from all across the United Kingdom. We just didn't realise the scale of support, from organisations, unions and political parties, including the Occupy movement who came for days and stood with the weak. Divine Rescue wants to commend you and the other media for your compassion, because without you coming here, we would be outside the door.'
Paul Phillips a user of the centre, said: 'This place does a lot for the homeless people. Helps them with rehousing and giving people something to eat. It helps us all out. If the council get hold of things, it's going to be a lot different for everybody. Closing this place down and all that, it's not right.'
Abiola Ayanlowo, who volunteers, said, 'You can see that we have clients here, so if the place is closed down they will be on the streets. There will be more crime in the area, we will not be able to feed them and help them. We are encouraging them to move on in their life, and these things will not happen.
'It's winter, it's cold, so here they can have hot things to drink. Southwark Council know it is not right to give this place to a private company and lose a community project which belongs to this Aylesbury Estate. We have to help our own people.'
Daniel said: 'I come from Poland but I have been here 12 years. I know all of these homeless people who come here for food and especially as it is cold with this winter weather when it is frozen all day, we can stay here all day and keep busy. The Housing Associations, the Council and the private houses, they all push the poor people away. Push them out into the concrete jungle; no council flats – less and less. They are all going to kick out the homeless.'