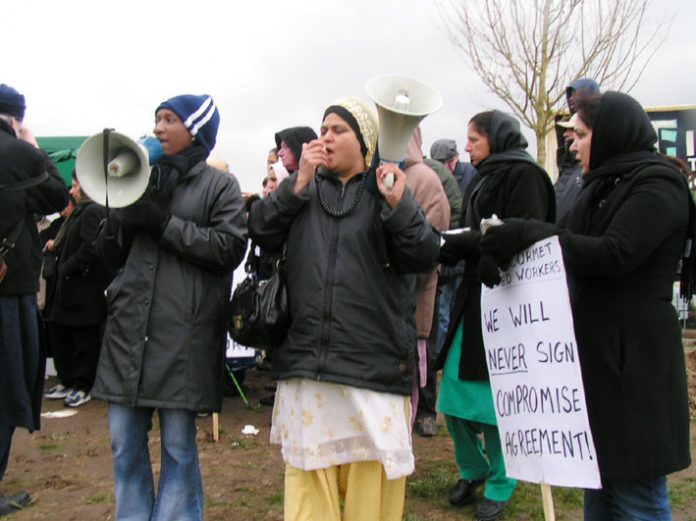 GATE GOURMET locked out workers were back on the hill yesterday after their successful mass picket on Sunday.
Lakhinder Saran said: 'Our mass picket was a great success and we are looking forward to our march through Hounslow on March 25th.
'We are going to give the German Gate Gourmet strikers a big welcome when they come over to support us, and we want the unions in Britain to take up our fight.
'All the unions must support the members not the bosses.
'What the TGWU leadership has done, siding with the Gate Gourmet management against us is very wrong.'
Bajit Dhindsa added: 'I am one of the seven the company said that they would never have back.
'When I was inside I was just a normal worker, there were no complaints against me, no warning letters, there was nothing at all against me.
'Now they have produced mush false evidence against me saying that I am a trouble maker and a slow worker, with no skills.
'I have worked there for seven years. Why did they not say anything before. The worst part of it is that the union leaders have agreed to this procedure.
'That is the biggest betrayal. Tony Woodley (T&G general secretary) should resign'.
Parmjit Brara said: 'I will never sign the compromise agreement. I am really angry with the union leaders. I was on holiday in India when the company sacked me, and the union leaders have agreed to it.'
Asha Varna said: 'Yesterday was a very good day. It is important that we show we have a lot of support. The union leaders are still telling people to sign the compromise agreement and the solicitors are inviting them in to say this.
'They are telling people to sign and saying that only a few of us have not signed. But this is not true. There are lots of us who have not signed and I will never sign.'