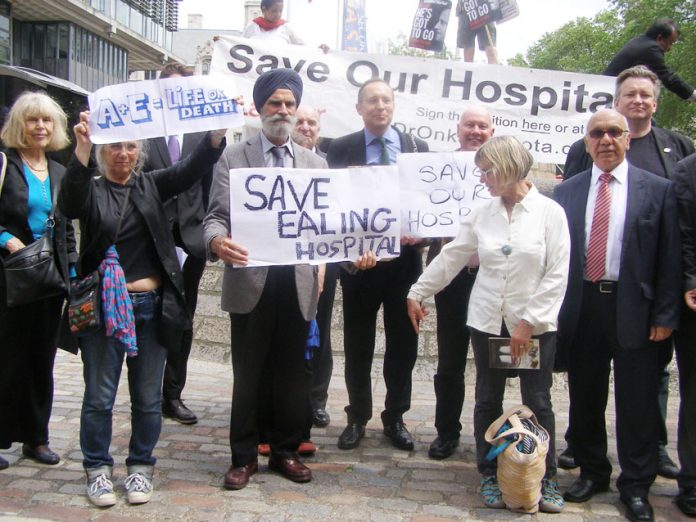 THERE is to be a march from Ealing Hospital to Downing Street in the first week of September to stop the closure of its Accident and Emergency Department.
Labour MP Steven Pound has urged that there be three other marches at the same time to stop the closure of the A&Es at Central Middlesex, Charing Cross and Hammersmith which are also facing closure.
The four marches will converge to march on Downing Street.
Abdul Chughti, Unite Branch Secretary Greenford Bus Garage, told News Line yesterday: 'Our messsage to health workers is "Whenever you want, we will stand with you; whenever you march, we will march with you; whenever you're ready, we are beside you."
'Ealing Hospital, our hospital, should not be closed. We need that hospital and it shouldn't close.
'They are taking more and more National Insurance from us and at the other side they are closing our hospitals. How can this be?
'We are nearly 350 at Greenford Bus Garage and this type of cause, everybody will stand beside you. Whenever you need us we will be there.'
Muhammad Awan, Deputy Area Processing Rep, Greenford Mail Centre, said: 'We support you 100 per cent. We need these emergency departments for our members and the people who we serve.
'There is huge feeling. How can people manage if they have to go to an emergency department 15 or 20 miles out of the area?
'It is a dangerous proposal. These A&Es must be kept open If you have a serious condition you cannot reach 20 miles. We need our local A&Es and we will support the march 100%.'
Colin Standfield, Chair Ealing Hospital Save Our Services (SOS), told News Line: 'It only started last week and it's very important that support is growing.
'At our meeting Pound made a rousing speech in which he called for the bringing together of the protests from all of the hospitals under threat.
'He urged that we march from Ealing Hospital to Westminster, picking up along the way other marches from Central Middlesex, Charing Cross, Hammersmith, West Middlesex, Chelsea and Westminster, and any other hospitals under threat.
'Under the proposals, if we save Ealing A&E, West Mid goes. If they save the A&E at Charing Cross then Chelsea and Westminster goes. Hammersmith is to be a specialist hospital with no A&E.
'Marches from all the hospitals under threat should meet up and we'll end up in Downing Street and say this is no way to run a health service by pitting one hospital against another. It's divide and rule.
'After Pound made the proposal, everyone was asking , when are we going to march and he said Parliament is in session the first week of September, so let's go for it then.
'People need to have their A&E nearby and if you want to close a hospital you start by closing the a&E.
'Once you close the A&E maternity has to go, then paediatrics goes, then surgery goes, and you end up with an outpatient shell of a hospital, and if you want to know what that looks like, have a look at St Mary's Sidcup where that's exactly what happened.'