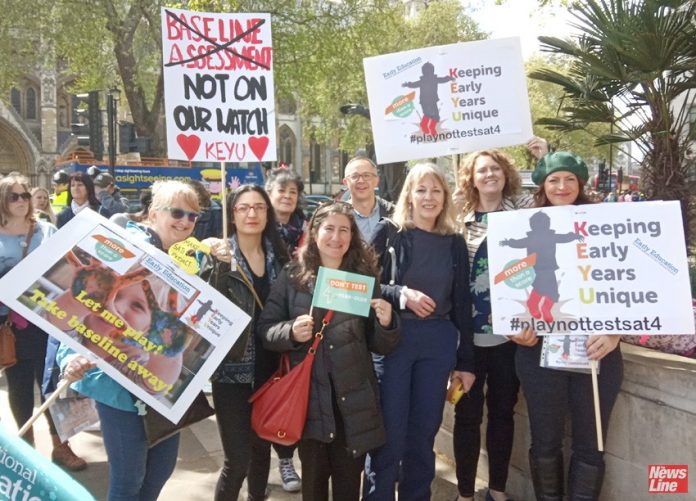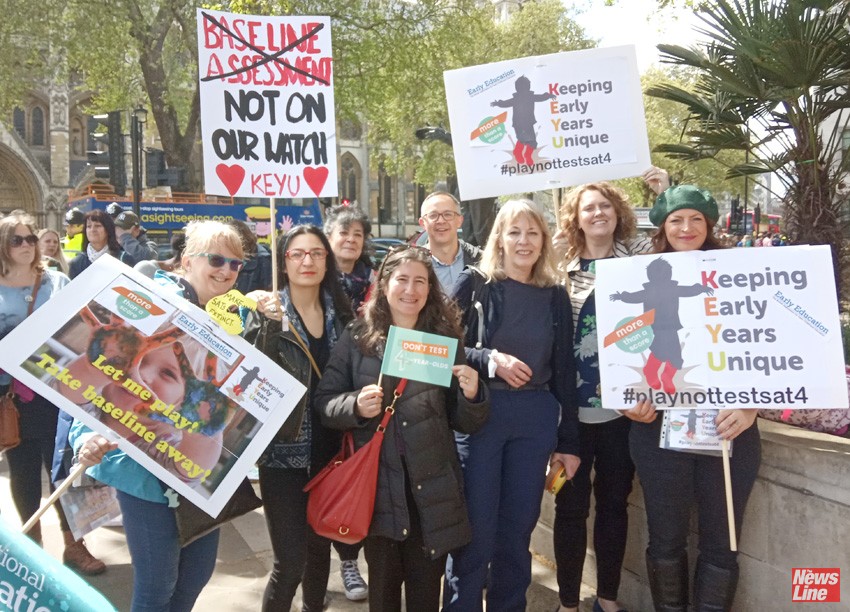 SOME of the youngest protesters ever rose up yesterday in the 'march of the four-year-olds!' where over 200 parents accompanied an army of children demanded the Tory plans to force kids to take a test in their first week of school are defeated.
The baseline assessment tests are hated by parents, teachers and pupils alike. Campaign groups like '4: Too Young to Test' and 'More than a Score' have been set up to fight the Tory proposals, which are being piloted this September.
'We are little, we are brave, we are more than a score!' shouted the marchers.
At a rally in Parliament Square before the march, parent Gemma Haley, said: 'The idea of being tested horrified my son.
'How can you get reliable data out of a 4-year-old? Two and two you get bananas!
'There are phonics tests, key stage two tests it's one long statutory test.'
Parent Kym Scott, with a group from Bromley told News Line: 'We are here to protest against the government's proposals for testing of 4-year-olds.
'They are too young and should be playing.
'Teachers already find what the appropriate needs of young children are.
'We already have Ofsted, we don't need any more accountability measures.'
Another young mother Kerry Payne said: 'Testing is pointless and rather than testing and wasting money on pointless initiatives we could be making a difference to the lives of our most vulnerable, especially for those with special needs.
'It's a waste of time and money and does not contribute to children's outcomes.'
Nelli Ali spoke to News Line outside Downing Street: 'I'm thinking of home schooling my child to save her from this aggressive testing so I'm here to support her friends.
'The money is being spent on all the wrong things.'
A delegation went into Downing Street to hand in a petition.
Campaigners say that the tests label young people and stress them out at a time, in their first week of school, where they are meant to be settling in, making friends and playing.