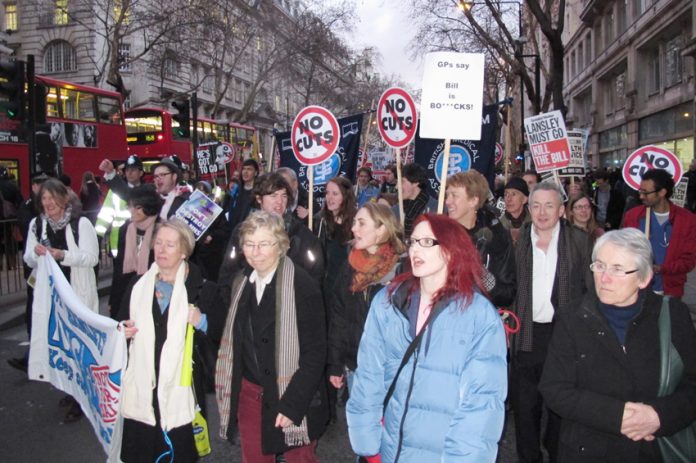 DELEGATES at the BMA representatives meeting in Bournemouth yesterday called for Health Secretary Lansley to resign against the advice of their leadership.
Motion 22 from City and Hackney Division stated quite simply: 'That this Meeting has no confidence in Andrew Lansley, the Secretary for Health, and calls for him to resign.'
Moving the motion, Dr Gary Marlowe from the West Midlands said that over the Health and Care Bill: 'Lansley misled the public and the profession. Once the White Paper was published it was clearly a marketisation approach but the detail was concealed and the Bill went through.'
Marlowe added: 'how can we trust someone with such a poor record with our NHS. Clinical Commissioning Groups are not being driven by GPs. Hospitals with debts being taken over by the taxpayer are being left as a succulent cherry for the private companies.
'How can we trust this man? Lansley doesn't listen.'
Speaking against, Mr Michael Kemp from the Medical Students Committee said: 'It is the government that passed the Health Bill, it is like a gorgon monster, when you cut off the head another one appears.'
Speaking for the motion, Dr Andrew Mimnagh said: 'You have to have a pledge of honesty and to resign when your trousers are down.'
In his advice to the meeting, BMA Council Chair Dr Hamish Meldrum said: 'This is not about one man, it is about government. To focus on one man does not really help.'
He added that if Lansley resigns 'you could have Jeremy Hunt'. He concluded: 'Don't pass this motion.'
In his reply to the debate Dr Marlowe said: 'Last night I was told that this was the wrong motion, I should ask for the government to resign. But calling Lansley to resign is a step forward.'
Chair called the vote and ruled that on the show of hands the Motion was carried.
But after calls from the floor it was put to a card vote.
The tellers reported 158 votes in favour of the motion and 124 against, to cheers around the hall.
Earlier, the meeting voted for more action on pensions. Emergency Motion 1, called for further action and to coordinate industrial action by doctors with other public sector unions, and that further action should include withdrawing from Clinical Commissioning Activity, and that hospital doctors should withdraw their labour with emergency cover only.
A Clause demanding that the BMA Council, at its meeting at the end of conference yesterday, should name another day of action was narrowly lost.
Moving the motion, Dr Kevin O'Kane from the Consultants Committee said: 'Four years ago we negotiated our pension with the government.
'This provided millions of pounds every year to the Treasury.
'Lansley thinks that he can continue to milk our pensions as a cash-cow.
'He wants us to work longer, pay more and get less. It is not fair and we are not going to take it.'
O'Kane stressed: 'This is not just an attack on pensions, it is a full-scale attack on the NHS.'
He continued: 'If we want to protect our pensions we need further action.
Speaking against the motion, Council Member Dr Keith Brent queried a Clause calling for coordinated action with other public sector unions.
He said: 'Some of the other unions have backed down and we are left carrying the standard.
'We need to carry the standard regardless of what other unions do.'
He claimed: 'Last week's action was not the most effective.
'We don't want to rush into another day of action. We want a long-term plan, it may be more than one day of action.'
Speaking for the Motion Dr Andrew Roland said: 'Government has shown no sign it has any intention of being reasonable or fair.'
He insisted: 'We cannot let the issue be. Last Thursday should have been a warning shot.'
He concluded: 'We cannot stand by and do nothing.'
The meeting went on to pass, almost unanimously, Emergency Motions calling to halt the take-over of South London and Essex hospitals and a campaign to ensure that all hospitals struggling for survival due to PFI debts remain owned and run by the NHS.
• See special feature on Monday.