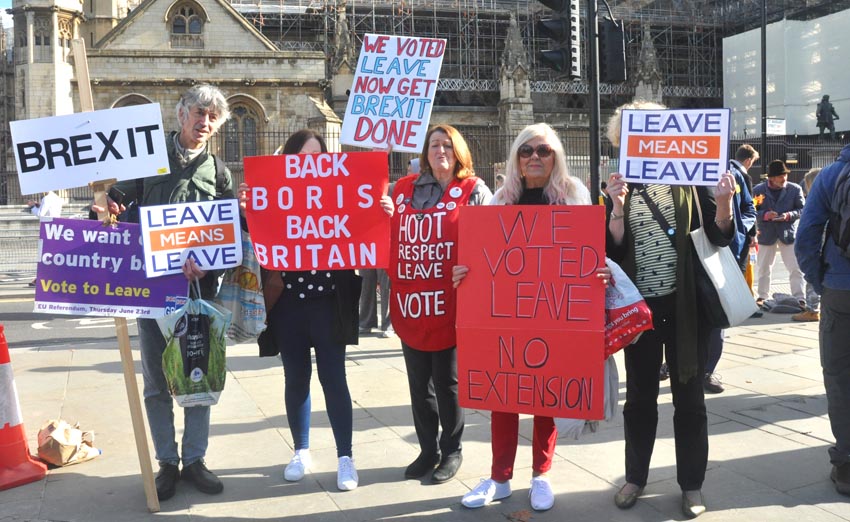 LABOUR leaders refused to confirm whether they would vote in favour of a Brexit trade deal between the UK and the EU or abstain again yesterday.
Arriving in Brussels yesterday, the UK's chief negotiator David Frost said: 'We will be looking forward to meeting our European colleagues later on this afternoon. We will be working very hard to get a deal.'
Tory Environment Secretary George Eustice said that just when progress was being made the EU had 'added a whole load of additional demands' which created problems and was a 'setback'.
Eustice said the UK is prepared to make some agreements on the so-called level playing-field, but insisted the EU must treat the UK as a sovereign power.
On fishing, Eustice accused the EU of making 'ludicrous' demands over future fishing rights. While the UK was prepared to offer a multi-annual deal of up to three years, the EU was insisting on access to British waters 'in perpetuity,' he said.
Pressed over whether the talks have in fact been a 'charade', Eustice said 'we will find out in the next day or two whether it is an exercise the EU's engaged in' and 'whether this is a choreographed thing on their part'. He added: 'It is in a very difficult position – there is no point denying that.'
Labour former prime minister Gordon Brown was busy spreading panic. He warned of 'huge international implications' of failing to reach an agreement with the EU.
He said: 'We would be in an economic war with Europe that would cost us very dearly. Food, drugs and everything else – we'd find it difficult to get it into the country without tariffs and holdups. But we would also be in an economic war with America, because there would be no chance of a trade treaty with America.
'Boris Johnson is going to end up as the most isolated prime minister in peacetime history with no friends around the world, because he has simply chosen a path of confrontation when everybody knows it is in Britain's economic interest – maybe not in the Brexiteers' ideological interest – to get a deal and get a deal now.'
Shadow home secretary Nick Thomas-Symonds said the UK 'absolutely' needs a deal with the EU, but wouldn't say how Labour would vote on any agreement, refusing to rule out the opposition abstaining.
He said: 'Clearly we need to see what has been agreed. I think that's a sensible, responsible position to take. But let's very much hope there is a deal because there seems to be two paths before us at the moment – a path of leaving the transition period without a deal and leaving with a deal, and we do know how catastrophic the no-deal outcome would be.'
Cabinet Foreign Secretary Rachel Reeves said the government 'has to deliver' a deal but she would 'have to see the content' before backing or rejecting it.
The 27 EU national parliaments would also need to ratify an agreement – depending on the actual contents of the deal.
The UK Internal Market Bill will return to the House of Commons this week, with certain clauses in it allowing the government to break international law, by overriding elements of the original treaty with the EU for Brexit – the withdrawal agreement.