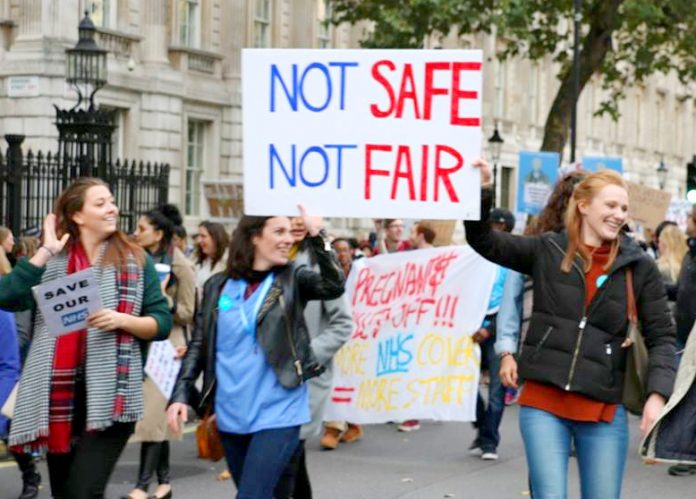 AT THE eleventh hour, talks between the BMA on behalf of the junior doctors and the government at ACAS reached the following decision:
'Following talks under the auspices of ACAS, the BMA, NHS Employers and the Department of Health are all agreed that a return to direct and meaningful negotiations in relation to a new contract for junior doctors is the right way forward.
'We intend to reach a collaborative agreement, working in partnership to produce a new contract for junior doctors, recognising their central role in patient care and the future of the NHS. NHS Employers have agreed to extend the timeframe for the BMA to commence any industrial action by four weeks to 13 January 2016 at 17:00, to allow negotiations to progress.
'Within that timetable, the BMA agrees to temporarily suspend its proposed strike action and the Department of Health agrees similarly to temporarily suspend implementation of a contract without agreement.'
Jeremy Hunt, Tory health secretary, had announced in parliament yesterday that the government had agreed to meet the BMA under the auspices of ACAS and added that after working through the weekend, discussions led to a potential agreement early yesterday afternoon between the BMA leadership and the government, which would then be put to the junior doctors.
'This agreement would allow a time limited period during which negotiations can take place and during which the BMA agrees to suspend strike action and the government agrees not to proceed unilaterally with implementing a new contract,' he stated.
Heidi Alexander, Labour shadow health secretary, asked if that meant that the government would no longer impose a contract on the junior doctors. Hunt replied: 'No we have not said that we will not impose a new contract on the junior doctors.
'We will suspend proceeding to the new contracts during the period which negotiations happen and in return the BMA will suspend the threat of strikes for that time limited period. But removing the threat of imposition permanently is something that has not been agreed in any other part of the NHS or any other part of the public sector.'