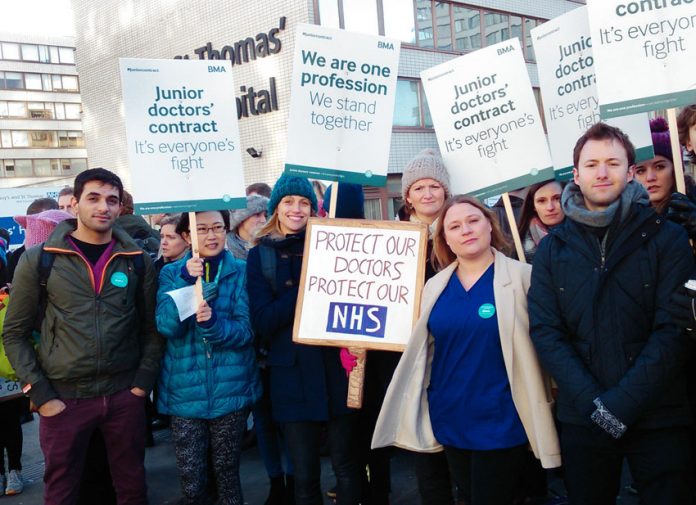 THE JUNIOR doctors strike, on Wednesday February 10th will go ahead, doctors union the BMA announced yesterday.
The BMA said in a statement: 'Despite the best efforts of our negotiating team, and hours of talks facilitated by ACAS, we have not managed to reach agreement with NHS Employers and the Department of Health on the new junior doctors contract. As a result, the industrial action we planned for 10 February will be going ahead.
'However, rather than the planned full walkout, the action will mirror that of 12 January. Junior doctors in England will be offering emergency care only for 24 hours from 8am on Wednesday 10 February to 8am Thursday 11 February.'
Commenting, Dr Johann Malawana, BMA junior doctor committee chair, said: 'Over the past few weeks, we have welcomed the involvement of Sir David Dalton in talks about a new junior doctor contract which recognises the need to protect patient care and doctors' working lives.
'His understanding of the realities of a health service buckling under mounting pressures and commitment to reaching a fair agreement has resulted in good progress on a number of issues.
'It is, therefore, particularly frustrating that the government is still digging in its heels. The government's position – based on ideology rather than reason – risks souring relations with an entire generation of junior doctors, the very doctors who the Secretary of State has acknowledged as the backbone of the NHS.
'The government's entrenched position in refusing to recognise Saturday working as unsocial hours, together with its continued threat to impose a contract so fiercely resisted by junior doctors across England, leaves us with no alternative but to continue with industrial action.
'And to those who would urge junior doctors to resolve their concerns in any way rather than industrial action, I ask:  "What else would you have us do?" We have talked in good faith with the government over the past few months, but have seen no willingness on their part to move on a core issue for junior doctors up and down the country. 
'The government misrepresents junior doctors as a block to a seven-day NHS, but they already work every day of the week. What we are asking is that this is reflected in fair and affordable recognition of unsocial hours. The public has shown its support for junior doctors and we deeply regret the disruption which industrial action will cause.
'We have changed the form of the industrial action starting on 10 February so as to balance the need to send a clear message to a government putting politics before patients while minimising disruption, with excellent care continuing to be provided by doctors and other NHS staff on the day.'