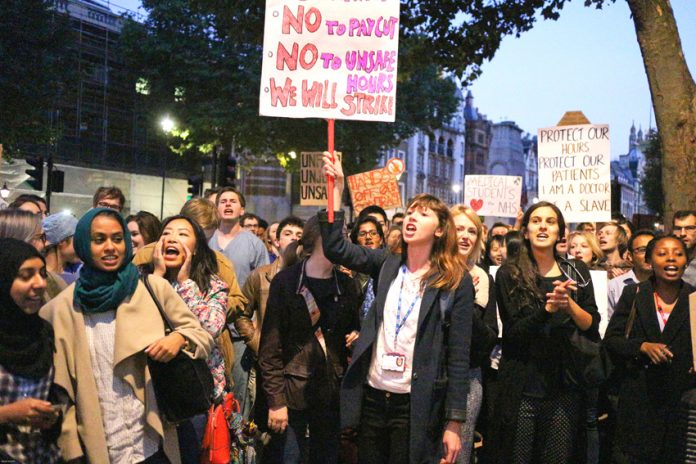 THOUSANDS of junior doctors will take to the streets of London today in protest at the imposed changes to their contracts.
The rally today in Waterloo Place follows the BMA's decision not to re-enter negotiations over fears for patient and doctor safety. This decision was made after it became clear that government proposals would be unsafe for patients, unfair to doctors and undermine the future of the NHS.
Rather than work with the BMA to address these concerns, the government announced they would put in place plans to impose a new contract from next year. In order to re-enter negotiations, the junior doctors committee is demanding that the government and NHS Employers withdraw their threat to impose a new contract, and that they provide the following concrete assurances:
• proper recognition of unsocial hours as premium time
• no disadvantage for those working unsocial hours compared to the current system
• no disadvantage for those working less than full time and taking parental leave compared to the current system
• pay for all work done
• proper hours safeguards protecting patients and their doctors.
Commenting ahead of Saturday's rally in central London, Dr Johann Malawana, BMA junior doctors committee chair, said: 'If they thought that junior doctors would simply accept their threats of imposition they have been proved very wrong.
'The health secretary has accused junior doctors of misleading the public over the impact of his changes, yet at the same time he continues to conflate junior doctors' legitimate concerns and the government's rhetoric on seven-day services.
'The truth is that the junior doctor contract is in no way a barrier to seven-day services, with the vast majority of junior doctors routinely providing care to patients 24/7. The BMA has been clear that it wants to deliver a safe and fair contract for junior doctors and patients. Instead of genuine negotiations, the government has insisted that junior doctors agree to recommendations without question.
'This is unacceptable and would not have allowed the BMA to negotiate over proposals we believe are unsafe for patients, unfair for doctors and undermine the future of the NHS. In recent weeks the health secretary has acknowledged junior doctors play a vital role in the NHS, which is at odds with his relentless and extremely damaging rhetoric attacking doctors, which has led to the anger on display today.
'We have always stated that without the continued threats of imposition and pre-conditions, the BMA would be happy to enter meaningful negotiations. But until the government gives junior doctors the reasonable assurances they are demanding we will continue with our course of action.'