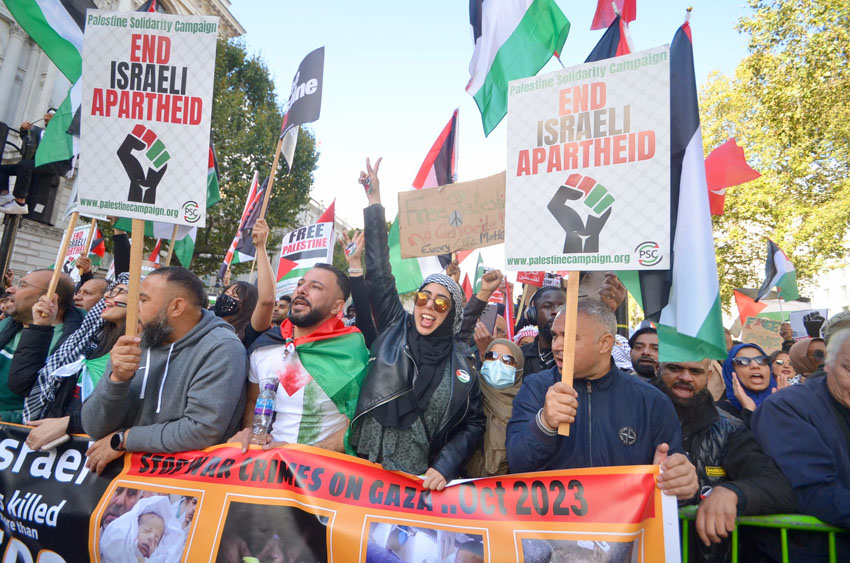 AS HUNDREDS of Israeli tanks amassed on the border fence ahead of their invasion of Gaza, medical authorities in the Gaza Strip said yesterday that more than 400 Palestinians had been killed and 1,500 wounded in the past 24 hours.
Three-hundred-and-fifty thousand Israeli troops and heavy weapons are reported to have been mobilised.
Over 80 people were killed and 250 injured in Deir al-Balah city in the central Gaza Strip yesterday as Israeli airstrikes targeted inhabited homes.
In Gaza City, 260 Palestinians were killed as heavy Israeli bombardment struck the neighbourhoods of Tal al-Hawa, al-Rimal, Shejaiya and al-Zaytoun as well as the al-Shati refugee camp.
Ten Palestinians were killed in the town of Beit Lahia, while 20 were killed in the southern Gaza Strip city of Khan Younis.
Another 40 Palestinians lost their lives in the northern Jabalia refugee camp.
The airstrikes not only resulted in a huge loss of life but also caused enormous damage to the infrastructure, with dozens of homes and residential buildings reduced to rubble.
The Gaza Health Ministry reported that 2,329 Palestinians have been killed in the past seven days, including 724 children.
Israel announced that it has suffered its heaviest casualties ever, with 1,300 dead.
At least 41 Palestinians, mostly women and children, were killed by renewed Israeli air strikes across the southern Gaza Strip on Sunday.
In the city of Rafah, an Israeli air strike that targeted a residence killed at least 13 individuals, including children. Many others were wounded, with some still buried under the rubble.
Another 15 Palestinian civilians were killed after an Israeli strike as they targeted a residential building in the Tal al-Hawa neighbourhood, south west of Gaza City.
In central Gaza, an Israeli air strike that struck a building killed at least seven Palestinians in the vicinity of a hospital.
Another six Palestinians were killed by an Israeli air strike in the town of al-Zawaida.
The World Health Organisation (WHO) reported that the Israeli military had wiped out entire Palestinian families in the Gaza Strip.
The WHO denounced the Israeli warning to move sick patients out of hospitals as a 'death sentence', reporting that there is no medical treatment for 70% of people in the north of the Gaza Strip.
Ice cream trucks and refrigerated food vehicles are being used to store bodies as hospital morgues in Gaza are overwhelmed by the number of people killed.
Riham Jafari, Coordinator of Advocacy and Communication for ActionAid Palestine said: 'As thousands of Gazans flee in fear for their lives – abandoning their homes and communities, it is deeply concerning to witness the threats to target hospitals and critical infrastructure, an egregious violation of international law and a blatant disregard for human lives.
'We are particularly concerned about the devastating impact on the 50,000 pregnant women in Gaza right now and newborn babies, who are all left without essential medical care and the safety they deserve as they make the impossible choice of fleeing with no guarantee of safety or remaining at risk of almost certain death.'
ActionAid called for the immediate reversal of the evacuation order and the guarantee of the full protection and safety of civilians.
The United Nations estimates that one million Gazans have been displaced in the past week.
• See feature and editorial and Photo gallery