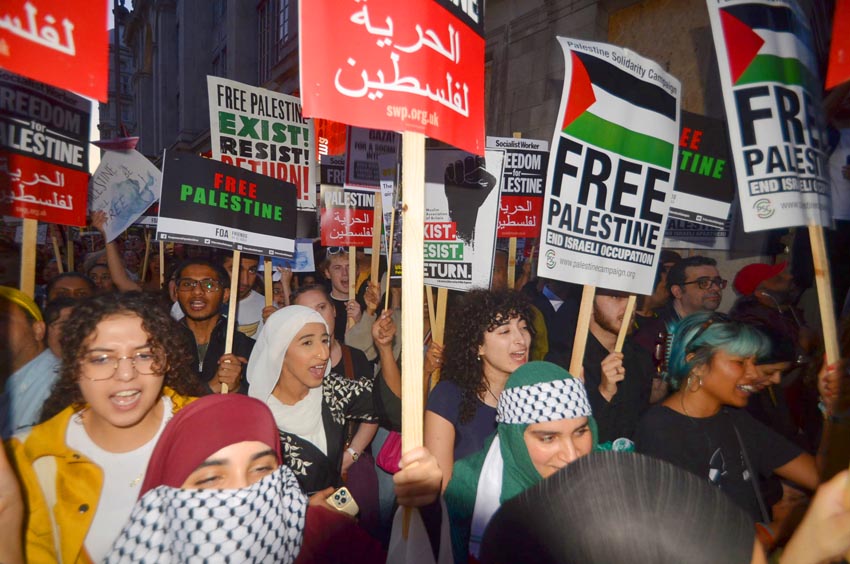 A HUGE barrage of rockets was launched by Palestinian fighters on the Israeli city of Ashkelon yesterday, after warning residents to leave their homes by 5.00pm.
Hamas called on the Arab and Muslim peoples and the world's free men and women to hold massive rallies on Friday in solidarity with Palestine, Gaza and the resistance.
It also called for making Friday a day to expose the Israeli occupation's crimes and its aggressive schemes and to show solidarity with Palestine, Jerusalem and the al Aqsa Mosque.
It urged young people across the West Bank and Jerusalem to stage angry protests on Friday and clash with Israeli soldiers and settlers.
It also urged its compatriots in 1948-occupied Palestine to march en masse to the al Aqsa Mosque to protect it against desecration and Judaisation.
There was a continuous Israeli bombardment of Gaza yesterday which killed hundreds of Palestinians, destroying homes, residential tower blocks and institutions.
Gaza hospitals were nearly overwhelmed, with at least 788 dead, including 140 children and over 4,000 injured.
The United Nations said more than 180,000 Palestinians have been displaced by the Israeli airstrikes which forced the closure of 14 Gaza food distribution centres, cutting off food aid to 500,000 people.
Warplanes bombed the Rafah crossing to Egypt, shutting down the only way in or out, and a complete shutdown of power is anticipated today, with no water, electricity or food reaching Gaza.
Israel ordered a significant intensification of the bombardment and a total blockade, with the Israeli Army mobilising 300,000 reservists.
Journalist Hisham Al-Nawajah succumbed to wounds sustained at dawn, and two other Palestinian journalists – Saeed Radwan al-Taweel, a resident of Rafah in the south, who works as editor-in-chief of the Al-Khamsa News website, and journalist Mohammad Rizq Sobh, a resident of Gaza and a photographer for the Khabar Agency – were also killed.
Since the beginning of their aggression against Gaza, the occupation forces have deliberately targeted journalists, in order to obscure the truth of their crimes against Palestinians.
The occupation also bombed four ambulances waiting to transport casualties in the Abasan Al-Kabira area.
On Monday, US congresswoman Cori Bush called to cut off US support for Israel saying: 'As part of achieving a just and lasting peace, we must do our part to stop this violence and trauma by ending US government support for Israeli military occupation and apartheid.'
Dr Mustafa Baghouti, General Secretary of the Palestinian National Initiative, said: 'Netanyahu is enacting total collective punishment against 2.2 million people.
'Massacres are taking place, including more than 100 children. How can the world accept this? We are absolutely worried now about the situation in Gaza. Israel has declared a complete siege, preventing access to water, electricity, medication and food supply.
'This means 2.2 million people are taken hostage while being bombarded by Israel and the most serious thing is the Israeli declaration that they want Palestinians in Gaza to go to Egypt and leave Gaza.
'This represents very serious ethnic cleansing, which should not happen. The Palestinian Authority is now marginalised. If it wants to end its irrelevance it should put aside its internal division with Hamas and allow free elections.'