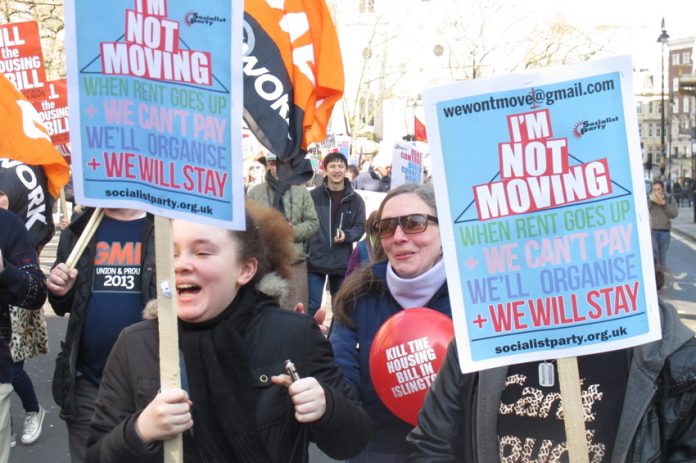 HOUSING has become a 'national emergency' as it emerged the proportion of home ownership has fallen to the lowest level since 1986 and, as rents spiral, housing charity Shelter said that 117 families in Britain become homeless every day.
Meanwhile, The Resolution Foundation, in a report released yesterday, said that the crisis is not confined to London but is spreading around the country particularly in the north of England. Whereas Tory PM Theresa May claimed that she wanted to 'spread economic growth more evenly across the country' the Resolution Foundation said that it is 'the housing crisis that is spreading'.
Anne Baxendale, Shelter's head of policy and public affairs, said: 'With house prices now completely out of step with average wages, sadly it's no surprise that home ownership across the country is declining so drastically. Sky high rents are leaving many families struggling to make ends meet each month, let alone save up enough for the deposit on a home. Far from being the stepping stone it once was, many young people and families are now facing a lifetime stuck in expensive and unstable private renting.
'The new government has a real chance to give hope back to these families by tackling the root cause of the housing crisis and building genuinely affordable homes that people on ordinary incomes can actually afford to rent or buy.'
Dan Wilson Craw, from campaign group 'Generation Rent', said: 'The trouble with renting is that those who are in insecure employment or low income are forced to rent, they are stuck. It is also an insecure form of tenure because you have contracts which last for six months or a year, so no renter really knows where they will be living in a year's time. Some landlords raise the rent every year, or will just decide to sell their property and that puts a family out on the streets.'
The Resolution Foundation stated: 'Across England the proportion of private renters nearly doubled between 2003 and 2015 – in Greater Manchester the proportion has come closer to tripling.
'The area with the sharpest drop in ownership over recent years is Greater Manchester. Ownership there has plummeted 14 percentage points from its peak in the early 2000s. Fewer than six in ten households living in the region own their own home today – a similar level to the London suburbs. Double digit falls in home ownership have also been experienced in South and West Yorkshire, driven by Sheffield and Leeds, and the West Midlands Metropolitan Area.'
Liberal Democrat leader Tim Farron warned: 'The housing crisis is now turning into a national emergency. Wages are being squeezed with the rise of zero-hours contracts and the "bank of mum of dad" is being stretched to breaking point. For millions of young people, the chance to get the excitement of being handed over the keys to a home they can call their own is a dream that's fading away fast.'