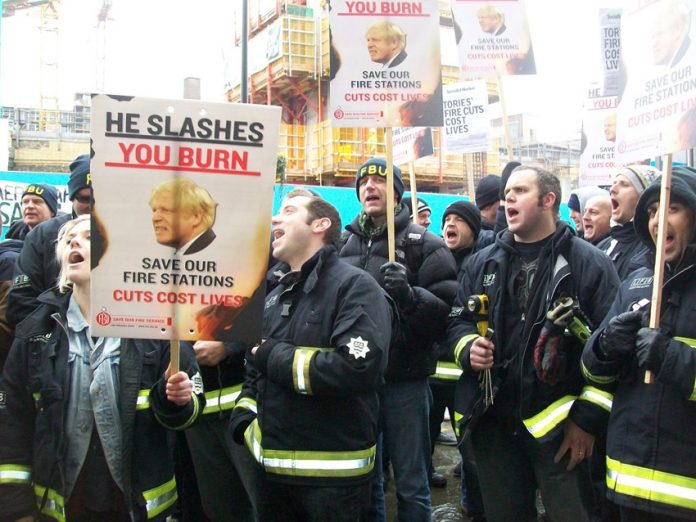 FIREFIGHTERS are on strike in defence of their pensions from 12noon until 4.00pm today with pickets outside fire stations and mass demonstrations in towns and cities across England and Wales.
'This initial strike is a warning shot to government,' said Matt Wrack, Fire Brigades Union General Secretary, yesterday.
'It is ludicrous to expect firefighters to fight fires and rescue families in their late-50s: the lives of the general public and firefighters themselves will be endangered.'
As well as raising the retirement age to 60, the government plans to hike firefighter pension contributions to a massive 13.2 per cent of salary and impose a vastly inferior employer/employee contribution ratio.
Tam McFarlan, FBU South West Executive member, told News Line: 'The government shouldn't underestimate the anger of members at their plans to destroy our pensions and should realise that we are all united and determined.'
There is concern, however, that Scottish firefighters are excluded from today's strike and London Region has issued an emergency statement on the issue.
Ian Leahair, Exec Council member for London Region, told News Line: 'The region's viewpoint is that although there is a separate proposal for Scotland as a result of devolution, such a proposal should not be accepted by the Scottish region as reason to settle, since it only addresses three of the eight points in the trade dispute.
'The London region's position is that dispute resolution must address all three governments involved, ie Wales, Scotland and Westminster, with a proposal that ensures that all eight points are met.
'Any resolution must deliver the same scheme across all three governments and ensure the retention of a national firefighter pension scheme across the UK.
'We can't allow this government or any other government to walk all over firefighter pension schemes.
'Firefighters already pay one of the highest contribution rates whilst carrying out an arduous occupation which could result in not being fit past 55.'
Kevin Game, Norfolk Brigade Secretary, said: 'There's determination to win all over the UK, we must not be divided from a national perspective. No to divide and conquer!'
Mark Pidduck, Hatfield Fire Station Watch Commander, told News Line: 'I understand our Scottish colleagues are also concerned that our union is being divided into areas, when we all face the same changes to our conditions and pension arrangement.
'I would like the union to remain unified. We must not allow the government to pick us off and make us into disparate groups.
'The primary concern of all members of the fire service is the expectation of firefighters to remain fit until the age of 60, which is a level that even the government's independent research has admitted only 20% would be able to achieve, leading to mass sackings.'
Paul Embery London Regional Secretary, told News Line: 'Determination is immense throughout the union to defeat the government's plan to increase the retirement age of firefighters which will impact seriously on public safety.
'The message has to be that the first strike is a warning shot, but we are prepared to take further strike action if the government doesn't concede any ground.
'The executive council is meeting later this week, where we will be discussing where the dispute goes from here and any future strike dates.'