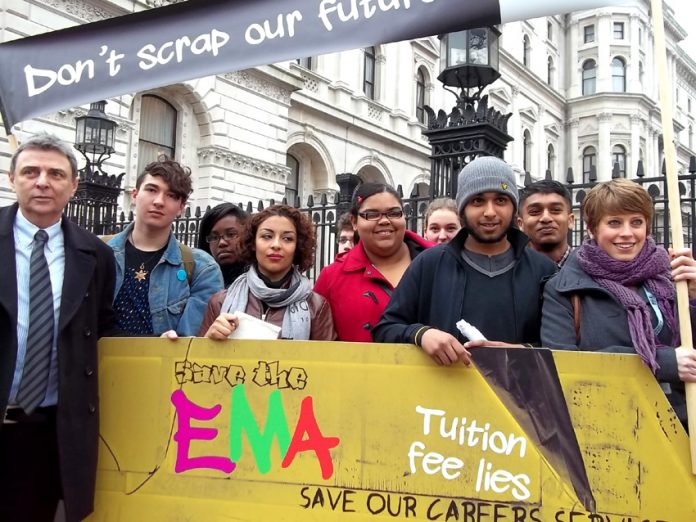 Students from BSix College in Hackney lobbied 10 Downing Street Wednesday morning to protest against the cuts to the EMA, along with Unison General Secretary Dave Prentis.
College heads fear that as many as 90% of students will be out of education by September when the £30-a-week Education Maintenance Allowance is cut.
Dave Prentis, General Secretary of Unison, advised the young protesters to ask the government to change course and not cut EMA.
He said: 'Cutting EMA will mean huge numbers of youth will be forced out of education and with no jobs, they will become a huge burden on the state.
'Unison will be asking the government to think again'.
Christian Kasapi, who is taking his A levels said: 'EMA is really helpful for everyone and was used sensibly for transport and books by most students.
'Some young people are living on their own and don't have parents, for them it is vital. I don't know what is going to happen to them. I think the working class should be striking.'
Kawtar Dembri said: 'I think it is morally wrong to cut EMA and we have to stand up to the ministers who say we misuse it.
'Some of the MPs misused the allowances but their allowances were not scrapped.
'We all need to stand up for the working class because all those politicians are ideologically against us.
'We are being led by a small minority of elitists who govern in their own favour, feeding their own pockets.
'They should be serving the people and not serving themselves.'