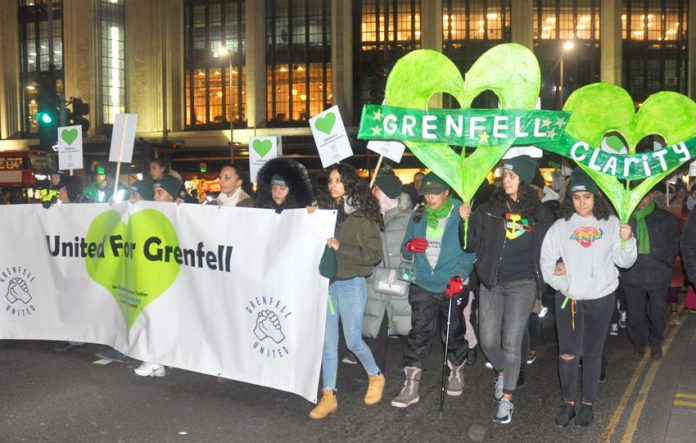 EIGHTEEN months after the Grenfell Inferno over 600 people turned out on the Silent March for the Grenfell victims and survivors. A delegation of students from Birmingham who came on the last Silent March returned to show their solidarity.
Emma Burgoyne-Williams, one of the students said: 'We are here to show our solidarity, one voice is not enough we need lots of voices to make an impact.' At a rally after the march Hamed Elgwahry, speaking on behalf of Grenfell United about the inquiry said: 'We are approaching the end of stage one of the enquiry and it has exposed the culture of neglect and noncompliance in a number of issues.
'The windows were not compliant the ventilation was not compliant, the stairwell doors were not compliant, the lifts were not compliant, the cladding (what we call a petrol blanket) was not compliant.
'It was a death trap, those responsible were only concerned about avoiding liability. There is nothing complicated, nothing confusing, they broke the law none of them are saying the building did comply. '18 months on since the fire the corporates are silent, we are saying enough is enough. The government has failed to act and implement any changes so they are partly responsible.
'Neighbours in Adair and Hazelwood Towers also have combustible materials.
'Grenfell United will continue to fight for the truth and we have a big fight ahead.'