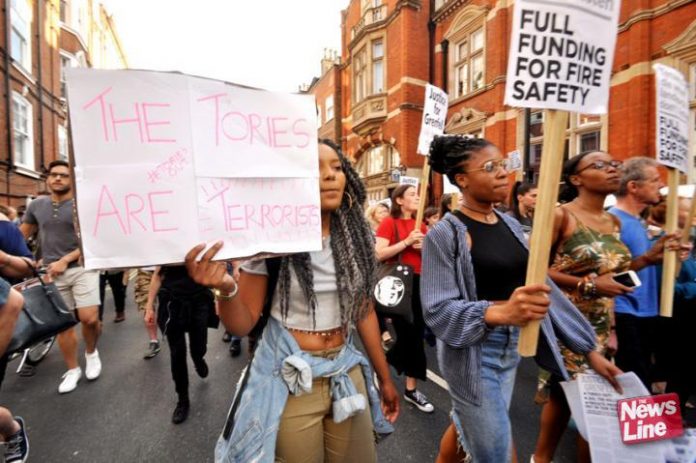 THE Tenant Management Organisation which manages Grenfell Tower is to be stripped of its responsibilities for the west London estate, Tory Prime Minister Theresa May said yesterday.
May was invited to meet survivors and residents of the west London tower block privately on Tuesday night to discuss concerns over the handling of the aftermath of the fire, which killed more than 80 people.
She told residents that Kensington and Chelsea Council 'did not respond quickly enough after the fire' and said the Tenant Management Organisation would be removed from managing the block. A Downing Street spokesman confirmed: 'The Prime Minister acknowledged residents' concerns about the culture of the Royal Borough of Kensington and Chelsea (RBKC) and the Tenant Management Organisation (TMO).
'She confirmed that the TMO will be removed from the management of the Lancaster West (Grenfell Tower) estate and she recognised that the council did not respond quickly enough after the fire.
'She agreed that it was important that the council listen to and respond to the issues residents face about the support and information they were receiving, including from key workers and housing officers.'
May said she had a 'dignified' and 'respectful' meeting with survivors of the fire, and residents were 'pleased' to hear the TMO was being stripped of its powers. The Prime Minister was initially criticised for failing to meet survivors when she went to the site of the tragedy, and was booed during a later visit.
Speaking during a visit to Guildford yesterday, May said: 'It was a very good meeting last night, it was very dignified, a very respectful meeting, and obviously people did have concerns that they were raising.
'And I was pleased that I was able to tell them – because the Tenant Management Organisation is one of the issues that residents have been very concerned about – I was able to tell them that the Tenant Management Organisation will no longer have responsibility for the Lancaster West housing estate. People were pleased to hear that.'
After the meeting with around 60 or 70 residents, May spoke to the council leader to pass on the concerns raised. News of the move came as the Met Police confirmed: 'One of the victims of the Grenfell Tower fire has been formally identified as 50-year-old Ernie Vital.'
They added: 'To date 53 people have been formally identified, having died following the fire at Grenfell Tower. Also, baby Logan Gomes who was stillborn in hospital on 14 June, has been recorded by police as a victim of the fire. A total of 27 people have been formally identified but not named at the request of their families.'