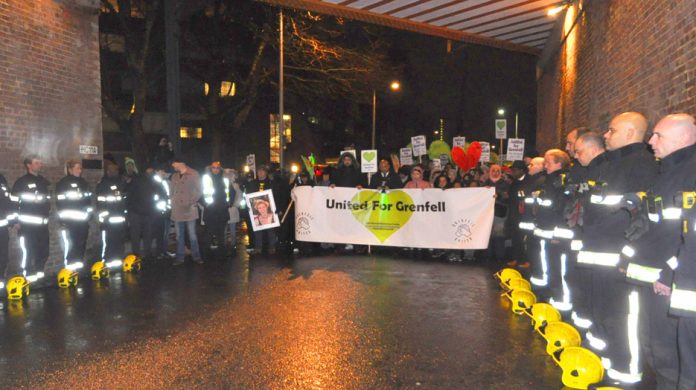 THE LONDON Fire Brigade (LFB) and the Fire Brigades Union (FBU) gave evidence on Day 11 of the Grenfell Inquiry, answering media slurs at their response to the fire.
The Metropolitan Police announced yesterday that it has launched a criminal investigation into the use of the 'stay put' policy by the London Fire Brigade during the Grenfell Tower fire.
Martin Seaward, representing the FBU, addressing the Grenfell Inquiry yesterday, said that firefighters were put in an 'impossible situation'.
He said: 'Grenfell Tower was a highly combustible deathtrap. People were guilty of serial non-compliance with building regulations and there was a complete failure at every stage of the building regime in terms of fire safety.'
Addressing the stay-put controversy, Seaward asked: 'What alternative strategy might have been implemented in the fast-moving situation?' He said: 'There remains no obvious and safe alternative strategy nor detailed plan.'
The legal counsel for the London Fire Brigade (LFB) Stephen Walsh QC said that it is a 'fundamental misunderstanding' of the events of the fire and of fire service capability to assume the building's stay-put policy can be changed to a simultaneous evacuation at the stroke of a fire incident commander at whatever time.
'If there is no policy applied by the building owner which provides for a policy of simultaneous evacuation and there are no evacuation plans and there are no general fire alarms, what is an incident commander on the fire ground to do?' Walsh asked.
Walsh added that firefighters responding to the blaze that night would have been 'wholly unaware of the defects in the fabric on the building'. He echoed concerns that criticisms have been made of their strategy with the 'benefit of hindsight'.
He stated that firefighters were working in 'intolerable conditions with stark choices with serious consequences with whatever they chose to do.' He said that it is not called a 'stay put' policy but a 'stay put unless' policy.
The 'unless' refers to the part of the policy which states 'unless your flat is affected by smoke or fire and it is safe for you to evacuate'. The crucial part of any design process – any buildings like Grenfell were expressly designed to contain the fire in any one flat. The building design is not intended to do the opposite, such as to facilitate the simultaneous evacuation,' Walsh argued.
'Buildings like Grenfell Tower are just not designed and built in a way that you could suddenly decide to get everyone out all at once: the stairwell isn't good enough; there isn't a common alarm system through the building. "Stay put" is not the creation of the fire service, but a principle of building design.'