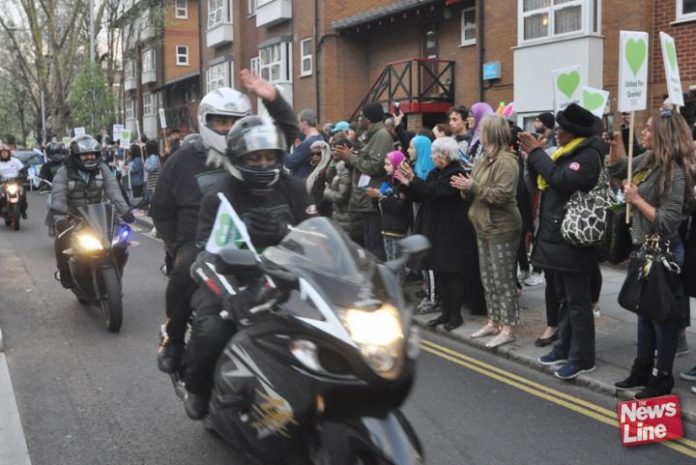 A LEAKED 'interim document' into the Grenfell Tower disaster on June 14, 2017 shows beyond shadow of a doubt that every death was preventable, and survivors are demanding that all those responsible be put on trial for murder.
The 210-page interim document, by fire investigation experts BRE Global, was produced to assist the Metropolitan police in their investigation. If the refurbishment had not taken place, which installed cheap flammable cladding on the Grenfell Tower, the report states, the fire would not have spread beyond the flat (Flat 16) in which it started.
The shoddy refurbishment, done on the cheap meant that there were gaps between the cladding and the concrete, which created a tunnel of air that fed the flames. The result was a catastrophic chimney-like effect, which 'provided a route for fire spread'.
The report exposes that the flammable cladding, flammable insulation, gaps between the cladding and the concrete, misfitting window frames, missing door closers, no space for fire engines to approach the building, no sprinkler system, and a single narrow stairwell, all contributed to turning the Grenfell Tower into a fire trap and the deaths of so many men, women and children.
The report, dated January 31st 2018, says: 'Grenfell Tower, as originally built, appears to have been designed on the premise of providing very high levels of passive fire protection. The original facade of Grenfell Tower, comprising exposed concrete and, given its age, likely timber or metal frame windows, would not have provided a medium for fire spread up the external surface. In BRE's opinion … there would have been little opportunity for a fire in a flat of Grenfell Tower to spread to any neighbouring flats.'
During the 2014-16 refurbishment 'cavity barriers' were installed specially designed to stop the chimney effect. These expand in the event of fire and seal the gaps between the concrete surface of the building. However, they were the wrong size and some were installed upside down or back to front.
The window frames were 'significantly narrower than the gap between the concrete surfaces of the columns, 150mm narrower', leaving large gaps at either end. The result was 'a direct route for fire spread around the window frame into the cavity of the facade … and from the facade back into flats.'
The draft report was submitted to the Metropolitan Police Service, and BRE was asked to achieve three aims:  'To establish the circumstances surrounding as many deaths resulting from the fire as possible;  'To establish any failings of duty of care owed to victims of the fire, both fatalities and surviving residents; 'To provide expert witness support in relation to any criminal prosecution, public inquiry or inquest.'