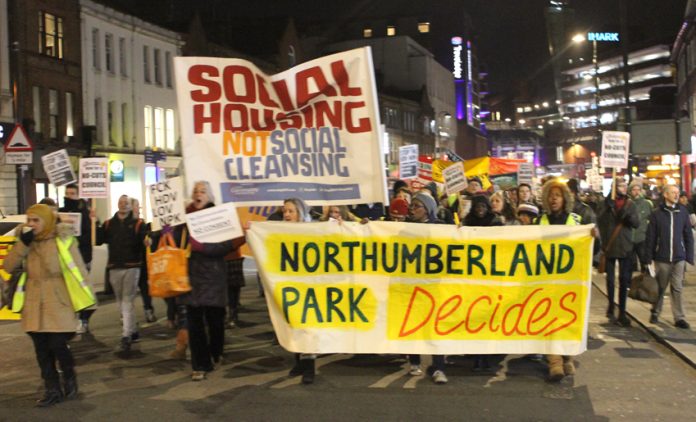 THE HIGH Court has given the council the go-ahead to privatise Haringey's housing, allowing huge private developers to embark on a £2bn private housing scheme in the teeth of fierce opposition from the local community.
One thousand angry residents marched through north London to the Civic Centre in Wood Green on Wednesday night, such is the opposition to the project. The project known as the Haringey Development Vehicle (HDV) has split the Labour-led Haringey Council.
The legal challenge was brought by a group of Haringey residents who said the council failed in its duty to consult properly and should have made the decision in full council rather than the cabinet. The Haringey residents say that they will now appeal the decision.
Council leader Claire Kober, who agreed the scheme with the authority's cabinet in July 2017, announced in January that she is stepping down as leader over the row. The 'public-private partnership' to redevelop Northumberland Park, a large council estate, and build 6,400 new homes has been slammed as naked privatisation by local residents.
Opponents of the HDV say it will lead to social cleansing, handing huge powers over to the private company, not to mention that the project would turn the area into a building site for 10-15 years.
Speaking on Wednesday evening's march Paul Kershaw from Unite, said: 'Britain has lost 159,000 social homes since 2011. The campaign shows we can win. No to social cleansing, yes to social housing.'
A group of Haringey careworkers marched with their banner 'Homecarers Against The HDV'. Cherrylyn Williams told News Line: 'We need more time to look after the elderly, they don't allow for our travelling time. 'They shouldn't pull down people's homes, they should be allowed to stay in their homes. We have to leave now to go and put the elderly to bed.'
Another carer, Lee Harris, said: 'This council is rubbish. The residents are suffering and there is too much pressure on workers.
'They have even cut the time we spend looking after the elderly from 45 minutes to 30. I think we need a workers government and socialism.'
The council will make its final decision in May.