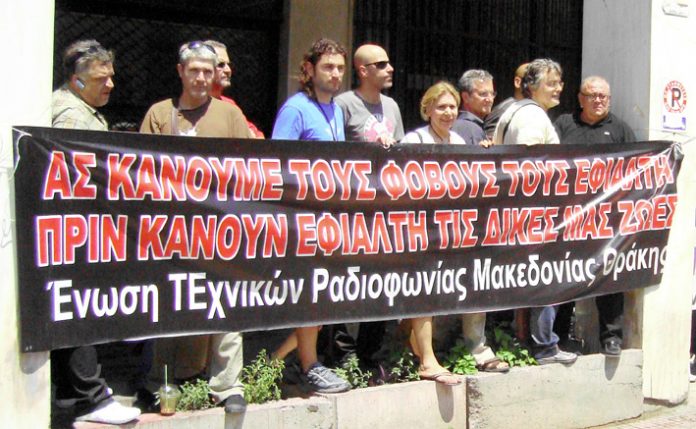 About 100 Greek radio and TV technicians and journalists gathered outside the building of the Ministry for Labour in central Athens at midday on Thursday (right) protesting against a new Bill by the Minister for Labour Loverdos which annuls and make unlawful already signed collective agreements which include pay rises for this year.
Two weeks ago the employers and the GSEE (Greek TUC) signed a three-year collective agreement for workers in the private sector which does not allow pay rises this year and only 1.5 per cent rises in 2011 and 2012.
Inflation is running presently at 5.4 per cent annually in Greece.
After the meeting with a Minister's aide, the technicians' and journalists' trade union leaders announced no progress, but a meeting was set up with the Minister next week.
The technicians' trade union ETER president Dimitris Kamarinopoulos said that through this Bill the government is further destroying workers' rights and 'deconstructing collective agreements'.
He called on all workers to be ready for a fight because 'this is a hot Summer and an even hotter Autumn is coming up so we must be prepared for a long fight'.