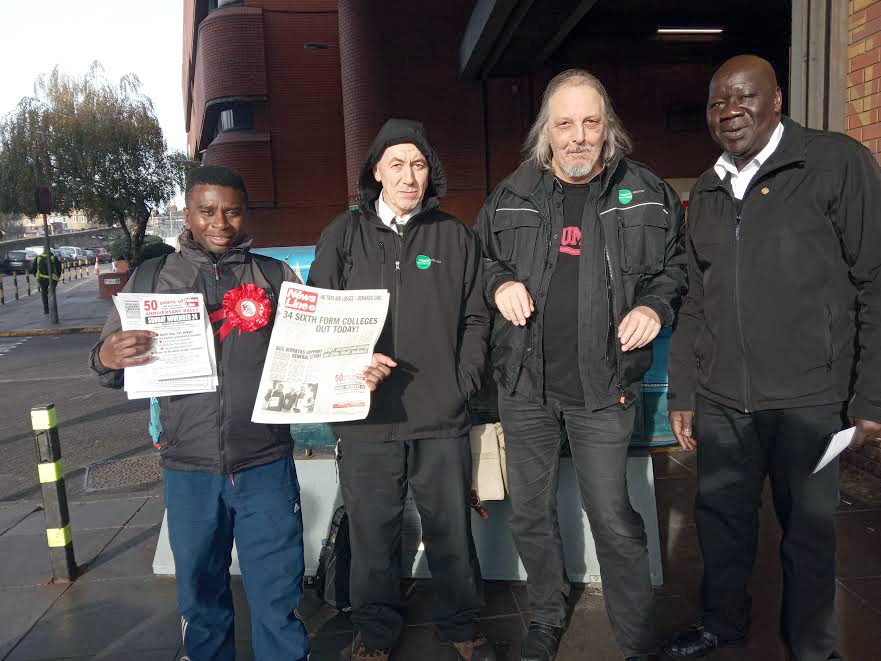 STUDENTS gave their full endorsement to WRP candidate for Hackney South and Shoreditch Jonty Leff yesterday as a campaign team worked hard fighting for revolutionary policies outside Hackney Community College in Shoreditch.
Despite freezing weather lots of students stopped to talk and sign up.
Construction student Tyrone Meally-Browley said: 'Where I live in Clapton E5 I always tell my family that they are changing Hackney.
'They are building flats for the rich and they are kicking everyone out, increasing the rent.
'There is not many parks anymore, they are just closing down youth centres.
'They are trying to add value to the land to push up the value of the properties.
'I am supporting the WRP because I want to make a change for our generation.
'University fees are so expensive they are putting everyone off. Students cannot afford to go and they are in big debt even before they graduate.
'This Tory government must be kicked out.'
Bricklaying student Joe Clark said: 'I can't stand Boris Johnson and the Tories. I can't stand David Cameron as well, he was the worst.
'52% of people voted Brexit, that is the majority. You cannot just overrule the majority.
Scott Dore, WRP candidate for Kensington, got a good response from bus workers at Westbourne Park Bus Garage.
Alex Gutierrez said, 'I'm Spanish and since Spain joined the EU, unemployment has increased. The EU is a racist organisation to those that are not from EU countries.'
Another bus worker, Aksa Honus said: 'I support a candidate that supports the workers because we want people who work for us and the management. Scott is for the workers.
'Corbyn is not giving answers, he wants to support both Leave and Remain, he is killing Labour.
'I was from the former Yugoslavia and under Tito we all had a good standard of living and he stood up for the workers.'
Roman Madejaski said: 'Private bus companies only make money for the company. The London Mayor has cut the number of buses so we are running fewer which means they are full all the time and we only get four or five minutes at the end of each journey to check over the buses.'
His friend Andrew Luwum said: 'We are supposed to check both inside and outside of the bus and some places are dangerous. The problem is they are not running buses for the people that use them.'