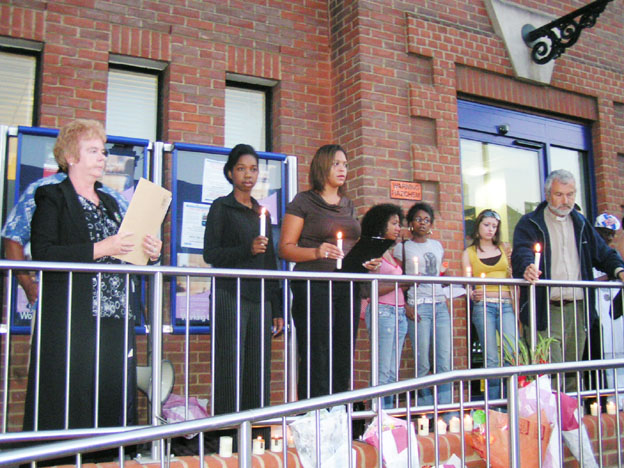 ANGRY Gate Gourmet strikers told News Line yesterday that Transport and General Workers' Union head of civil aviation, Brendan Gold, had visited them on the mass picket at Heathrow Airport on Wednesday afternoon with 'a message of despair'.
They said that they were determined to maintain their unity and reject the proposed 'framework agreement' signed by Gate Gourmet, Gold and TUC General Secretary Brendan Barber.
They were unanimous that they were going for reinstatement for all.
Picket Surinder said: 'We are all going for reinstatement. We don't want the money, we want our jobs back.
'Brendan Gold came down here and said that the company will not agree to reinstate us all. We were all upset by what he said. We want our leaders to fight for reinstatement for all.
'We want our rights. We won't sell our jobs. We want leaders who will fight to defend every job. We are very confident of victory.'
Fellow picket Rani said: 'What is Brendan Gold's job. His job is to take us all back inside. He should be fighting for that, not what the company wants.
'We want leaders who fight for victory not try to divide us. The union is us and we are very strong. We have already stopped two terminals.'
Picket Mr M Singh said: 'Brendan Gold came here yesterday and said "you can keep fighting for your jobs if you want to, but those who want to can sign the form and take the compensation money''.
'He said, "you can still keep on fighting and the TGWU will keep on fighting like at LSG Skychefs, for 17 months''.
'Well, he can keep on fighting for two years. He's in a job.
'Anyway, at LSG not a single member got their job back.
'He came here with a message of despair, not like three weeks ago when he was very vigilant and optimistic and his voice tone was much higher than it was yesterday.
'Also he said they were organising some industrial action in America.
'What happens in America isn't going to affect here very much, it will be sidelined.
'Somebody said, "why not organise something closer to home, because we've got a lot of TGWU members here?''
'He replied that the laws in Britain don't allow it.
'Well the laws have to be changed. If these laws are allowed to stay, the working class will be turned back to slavery.
'Look at the way agency workers are treated: "come in when we want you, stay at home when we don't''.
'We need leaders who are fighting to win.'
Picket Eric Paul said: 'The letter from the company is trying to trap us on every side. Nothing is clear.
'And the union leaders have betrayed us by signing it.
'They call it a framework agreement. What do they mean by framework? It's a frame-up!'
• Second news story
Martial Law declared in parts of New Orleans
THE EVACUATION of stranded hurricane victims from New Orleans' Superdome stadium was suspended yesterday after shots were fired at a military helicopter.
Five million people in the area, on the United States' southern coast, are without electricity, there is no running water or petrol available, and food is running out.
Martial law has been declared in several parts of New Orleans and an extra 10,000 national guardsmen from Mississippi and Louisiana have been called up, in addition to 21,000 already deployed.
A spokesman for the Louisiana ambulance service said that the crowd in the Superdome had grown unruly and he was concerned for the safety of his staff.
He said a national guardsman had been shot but had not been seriously injured.
Most of New Orleans remains under water after the city's flood defences collapsed in the wake of Hurricane Katrina.
No assistance was available for the poor of the city who had been left stranded.
'They will not give us anything,' said angry, mainly black homeless families as they tried to shelter on a motorway flyover.
Many people are feared drowned, raising the danger of water-borne diseases spread by the decaying bodies.
Across the region thousands of wooden homes hit by the hurricane lay in ruins. The death toll is expected to reach into the thousands.
The crisis has heightened opposition to US President George W Bush, who cut short his holiday in Texas and flew over New Orleans on his way back to Washington.