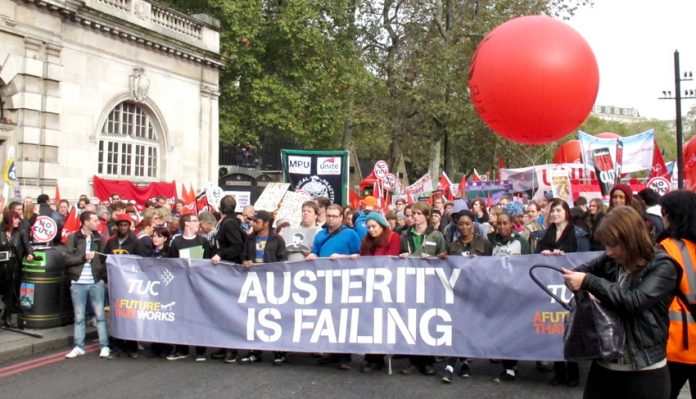 STERLING posted significant declines against the US dollar and euro yesterday as UK growth prospects sank.
The pound was 1.5030 against the US dollar and 1.1528 against the euro in mid-morning trading. It continued to fall below 1.50 to the dollar, a ten-year record low.
The news that UK manufacturing suffered a shock contraction in February, gave 'investors' yet another reason to avoid the pound.
Manufacturing accounts for 10.5% of the UK economic output, according to the Office for National Statistics (ONS).
The Markit/CIPS purchasing managers' index (PMI) for UK manufacturing fell to 47.9 last month, from a downwardly revised 50.5 in January, despite economists forecasting an increase to 51.0.
After the PMI report was published the pound dropped against the US dollar and euro, shedding 0.7 against the former and 0.6 per cent against the latter.
February's PMI was the first reading below 50, which indicates contraction, since November.
Chris Williamson, chief economist at Markit said: 'The return to contraction of the manufacturing sector is a big surprise and represents a major setback to hopes that the UK economy can return to growth in the first quarter and may avoid a triple-dip recession.'
Both output and new orders fell in February, Markit said, while purchasing activity was also cut markedly as manufacturers continued to show a preference for holding less stock.
Staffing levels in the sector dropped at their quickest pace in more than three years.
Commenting on the pound's slide, Nawaz Ali, UK Market Analyst for Western Union Business Solutions, said: 'The British pound is under momentous selling pressure across the board this morning after Britain's latest manufacturing survey unexpectedly turned negative, bolstering speculation that the Bank of England will kick-off a new round of QE in its meeting next week.
'The data adds to growing concerns that not only could the BoE re-start monetary printing in March, the central bank's new flexible inflation strategy puts it in a position to launch a prolonged period of asset purchases, similar to what the US have done and what the Bank of Japan is planning to do.'
Lee Hopley, chief economist at EEF, the manufacturers' organisation, said the latest PMI data underlined the challenges the industry is facing, with soft domestic markets compounded by flagging demand from abroad.
• The rate of unemployment in the eurozone rose to a fresh record high in January, the latest Eurostat official figures show.
The jobless rate in the 17 countries that use the euro rose to 11.9% in January from 11.8% in December, with the highest rate 27% in Greece, although the most recent figure there was from November, while the lowest rate was 4.9% in Austria.