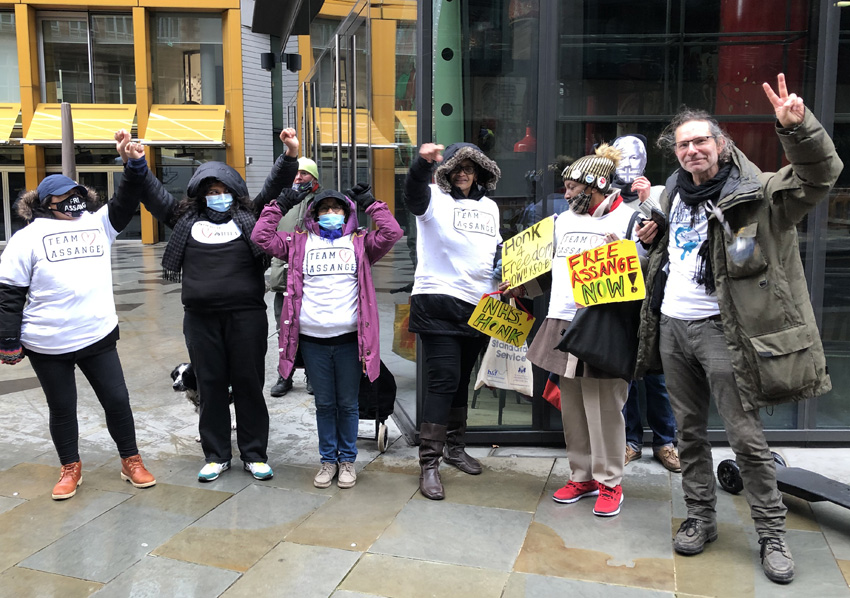 'TODAY is a victory for Julian! Today's victory is the first step towards justice in this case,' Stella Moris, WikiLeaks founder Julian Assange's fiancee and mother of two of his children, said yesterday.
She was speaking to a large crowd of supporters and press from all over the world outside the Old Bailey in central London, where a judge ruled that Assange will not be extradited to the US where he faces a sentence of up to 175 years in a high-security 'Supermax' prison for exposing imperialist war crimes in Iraq and Afghanistan.
District Judge Vanessa Baraitser ruled that, while US prosecutors met the tests for Assange to be extradited for trial, the US is incapable of preventing him from attempting to take his own life.
She outlined evidence of his self harm and suicidal thoughts and said: 'The overall impression is of a depressed and sometimes despairing man fearful for his future.'
She said: 'Faced with the conditions of near total isolation without the protective factors which limited his risk at HMP Belmarsh, I am satisfied the procedures described by the US will not prevent Mr Assange from finding a way to commit suicide, and for this reason I have decided extradition would be oppressive by reason of mental harm and I order his discharge.'
Outside the court Stella Moris continued: 'We are pleased that the court has recognised the seriousness and the inhumanity of what he has endured. But let's not forget the indictment in the US has not been dropped.
'We are extremely concerned that the US government has decided to appeal this decision. It continues to want to punish Julian and make him disappear into the deepest darkest hole of the US prison system for the rest of his life.
'That can never happen. We will never accept that journalism is a crime in this country or any other.'
She alleged: 'We cannot forget that US agents plotted to kill Julian on British soil. His British solicitors were deliberately targeted by name and their documents were stolen. Their illegal operations even targeted our six month old baby.
'It is sickening and it is also a threat to everyone.
'On behalf of Julian and myself I want to thank the millions of people around the world and the institutions who are already calling for his persecution to end.
'Free Julian. Free the press. Free us all!'
All morning Assange's supporters were threatened with arrest under Covid-19 laws and prevented from picketing. Some were issued fines and there were at least two arrests.