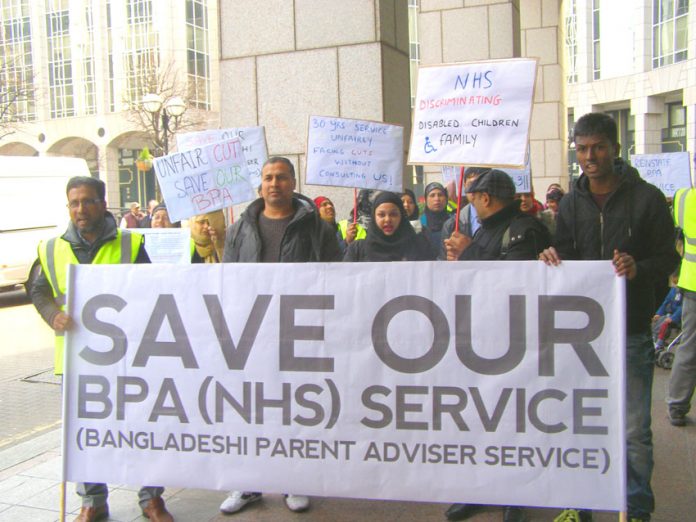 AROUND 100 angry family members demonstrated against the threatened closure of their Bangladeshi Parent Adviser (BPA) service yesterday, marching from Chrisp Street Market in Poplar, east London, to Tower Hamlets Town Hall.
BPA is a Community Disability Service funded by the NHS and managed by Tower Hamlets Council.
Disgusted at being ignored on arrival at the council chambers, they marched inside the town hall with their banners and placards, demanding to see the mayor.
Eventually someone came down claiming that the planned closure has nothing to do with the mayor.
Campaign leader Aysha Begum told News Line: 'What they tried to say today was that the mayor has no access to the funding so the cut is nothing to do with him, but we are not satisfied with that. We need to sit down face to face and hear answers as to why they are cutting our service.'
On the march, families shouted: 'Bangla parents and children need our service!' and 'Don't cut our service!'
Aysha told News Line: 'I'm a parent and a carer who uses the service. It is a vital and unique service. There's no other service like it anywhere in the UK, providing us with emotional counselling and support.
'As soon as a child is born with disability there is an immense pressure on families which have to be helped.
'This service is a wonderful service, providing one-to-one home visits and in addition a once a week mothers' group, when parents can communicate with each other, express their feelings and help each other overcome their fears. Each and every parent has their own needs, all the children are different.'
Local GP Anna Livingstone told News Line: 'Today's demonstration is a powerful expression of families' needs and appreciation of the service. 45 families out of 70 users are represented here. A very good turnout.'
Funding for the service is to be cut at the end of this month – which is next week.