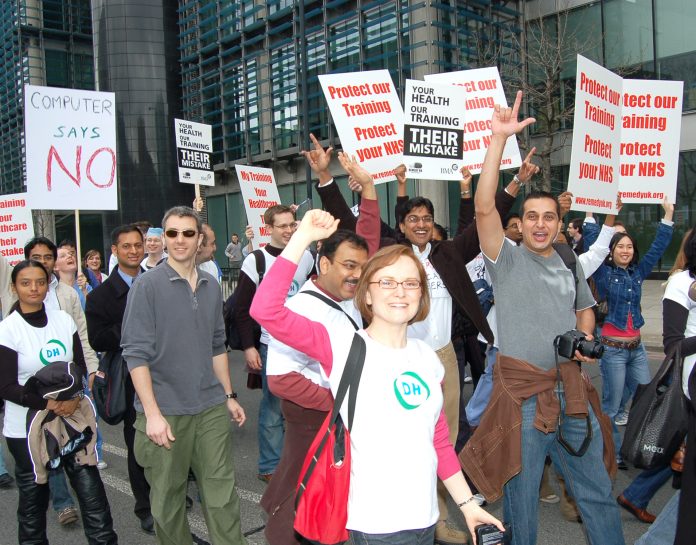 Patient safety and the future career prospects of many thousands of junior doctors could be further jeopardised within the next two weeks, warned the British Medical Association's new Chairman of Council yesterday.
Calling for decisive action by government and trusts, Dr Hamish Meldrum said that the Medical Training and Application Service (MTAS) had already proved itself unfit for purpose.
He added that the BMA had presented the Department of Health with evidence that doctors were still being disadvantaged in a second round of recruitment.
Current figures show that around 16,000 doctors are competing for 2,300 posts in England.
Meldrum said the problems could leave many unemployed or, at best, unsure of their future on August 1st when they are supposed to start new jobs.
He warned: 'Many doctors still have no idea what their future is beyond the next fortnight, new Health Secretary Alan Johnson must act now.
'He has said he wishes to engage with the medical profession. What we want to see is action as well as words.'
Meldrum stressed: 'Getting doctors in post is a patient safety issue.
'There have been suggestions that the employment protections promised to NHS doctors will not be applied to International Medical Graduates who are already working in the NHS.
'Scapegoating overseas doctors for this chaos would be unethical, unfair and wasteful and we want an assurance that it won't happen.'
Meldrum added that there was a 'double whammy' for the quality of doctors' education and training.
Falling numbers of medical academics meant that the quality of their teaching at medical school was under threat.
There was also a risk of their postgraduate training being 'dumbed down' because of the Modernising Medical Careers reforms, coupled with restrictions on working time.
On a related matter, he cited the Scarborough NHS Trust near his practice in Bridlington – that has just announced its intention to lay off 600 health workers – as an example of the unacceptable panic measures that some trust managers are taking to try to balance their books.
The BMA continues to press the government to release the contract for Staff and Associate Specialist (SAS) doctors so that they can ballot the profession.
The contract details were agreed in November 2006 but it is being held up by the government's Public Sector Pay Committee – 'another case where action by Mr Johnson would count for more than just words,' said Meldrum.
l The Lancet magazine yesterday warned that overseas doctors face prejudice after suspected failed bomb attacks in London and Glasgow.
It said there is a danger that such incidents will be used as an excuse to discriminate against the many NHS overseas doctors.
And new stringent checks for migrants wishing to work in the NHS, announced by ministers on July 4th, could add further to the difficulties.
A Lancet editorial stresses: 'Although criminal checks may be a necessary counter-terrorism measure, discriminating against doctors on the basis of race, religion, or country of birth is not.'