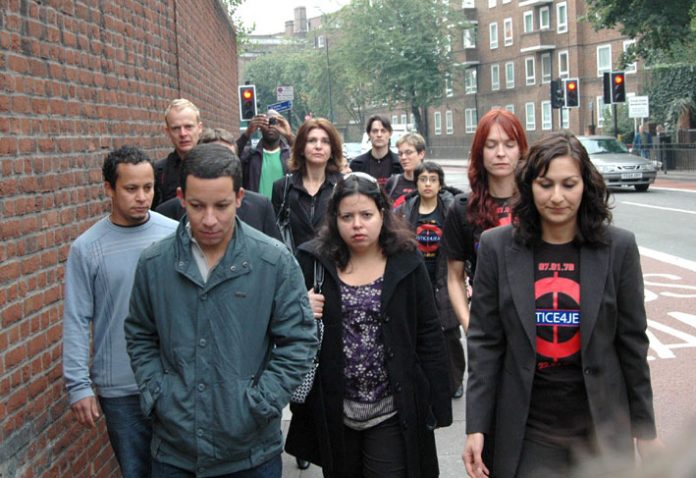 Members of the Jean Charles de Menezes family refused to listen to the coroner's summing up at the young Brazilian's inquest yesterday, in protest against Coroner Sir Michael Wright's ruling on Tuesday that the inquest jury could not return an 'unlawful killing' verdict.
As Wright began to start his summing up, five members of the de Menezes family got up and undid their coats to show t-shirts with the printed slogans: 'Unlawful Killing Verdict – Your Legal Right to Decide'.
As they walked out, they went close to the jury, displaying their t-shirts.
The family's solicitor, Michael Mansfield, and his team also refused to be present for the rest of the hearing in the coroner's court sitting at the Oval Cricket Ground.
Coroner Wright had opened his remarks by telling the jury: 'I understand that from this point they will no longer be here. There is absolutely no difficulty about that. No disrespect is meant by it to anyone.'
The family had gone to the High Court on Tuesday to seek a judicial review of the coroner's ruling on 'unlawful killing'.
Following the court's judgement, delivered on Wednesday, Vivien Figueredo, cousin of Jean Charles, on behalf of the de Menezes family issued an urgent appeal to supporters: 'Today was an incredibly sad day for our family. We lost our appeal in the High Court and it was devastating. We cannot believe the jury will not get to decide if Jean was unlawfully killed or comment on the evidence in their own words.
'Tomorrow all of Jean's cousins who live in the UK will be attending the final part of the inquest to hear the end of the Coroner's summing up. We hope you can join us.
'Join us on the last day of this inquest to fill the public gallery in a sign of solidarity with our family.
Solidarity against injustice, against lies, against cover ups, against collusion, against a system which has repeatedly blocked, silenced and stopped all the avenues we have tried to pursue for justice.
'We have been patient, we have been respectful, we have done everything they could have asked and we have got nothing.
'Another person could be shot and killed, another family could go through the horrendous ordeal we have gone through.
'Nothing has changed. Words cannot bring me to express how that feels after everything we have done.
'But we still have faith in the jury to do the right thing. They have the power to do that.'