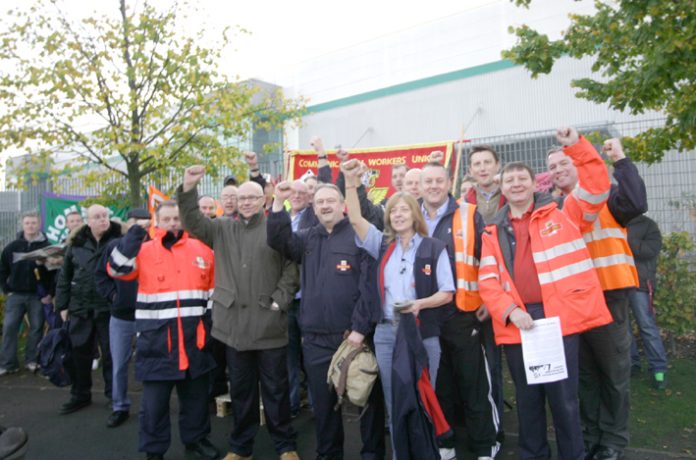 'ROYAL MAIL is misleading the public,' the Communication Workers Union (CWU) said yesterday at the start of the national postal strike in defence of jobs and basic trade union rights.
'Royal Mail bosses hide behind the word "modernisation'' – what they really mean is unprecedented cuts in jobs, services, pay and conditions,' the union said.
It warned that postal workers are facing:
• 'Threats to job security – full-time to part-time and compulsory redundancies
• 'Unreasonable demands – being bullied to meet impossible work targets
• 'Cuts in pay – longer hours for nothing.'
The union added that the public is facing:
• 'Less reliable and later deliveries – a part-time workforce means a part-time service
• 'More delivery office closures – you may have to travel to pick up your mail
• 'Creeping privatisation – a business based on profit only, not a service based on need.'
Prime Minister Gordon Brown yesterday spelt out his opposition to the postal workers' strike, branding it 'self-defeating'.
The CWU, however, is maintaining that the government and the Royal Mail management are acting together and are opposing a negotiated settlement.
Yesterday the CWU served notice for further strike action commencing next Thursday. Dave Ward said 'however these strikes can be avoided'.
Cambridge Mail Centre workers responded to the government's demand to call off their action, as they began the national strike with a picket at Clifton Road.
Ten lively pickets were on duty at lunch-time and News Line spoke to Mark Toner, branch secretary. CWU Eastern 4.
He said: 'The strike is going very well, we're very strong.
'We've got majority support here in Cambridge. Hopefully we'll get a negotiated settlement before Christmas, but the main stumbling block is Mandelson and his two henchmen Higson and Crozier.
'Tomorrow the delivery office will be even stronger, they've only had eight scabs out of a total of approximately 250 workers and in Stevenage delivery office there were no scabs at all.'
News Line asked him what he thought about the possibility of a general strike to win the postal workers battle.
He said: 'It would be great if we could get the support for a general strike. We've already had support from other unions today.'
Sajad Hussain, CWU Late Shift Sub Rep, said: 'There have already been a lot of MPs in the Labour Party saying they support the union against privatisation.
'The public are also very friendly. They feel that they hold a share in Royal Mail as a public company and they still want it to be a public company.
'There are 120,000 people working for Royal Mail so there's around 600,000 people in families who depend on Royal Mail jobs.'
He also pointed out that there is currently a £10 billion deficit in the pension fund which 'they are doing nothing about'.
As to the effectiveness of the strike, Hussain said: 'Our strike is seriously affecting the delivery of letters.'
On the picket line outside the Nine Elms Mail Centre in south London, CWU Area Rep Tam Merryweather told News Line: 'We've been out since four o'clock this morning on a national 24-hour strike.
'There's about 1,200 of us working in the Mail Centre and 98 per cent have joined the strike. The strike is solid.
'I think it's terrible that the government haven't stepped in for a national agreement.
'We want to be listened to.
'Change has to come in with the union's agreement, not be imposed on our members.
'Since last year 70 jobs have been cut in the Mail Centre under modernisation, but that was agreed.
'Now Royal Mail is threatening to make our drivers at Nine Elms part-time and wants our members to go anywhere in London if they're "spare''.
'I think we're miles apart on this and we have to dig in and fight it out.
'I think the future of Royal Mail is at stake, they're trying to run it down, break the union up and sell it off cheap.
'Our message to other trade unions is join in and support us.'
Steve Byrne, CWU Early Rep at Nine Elms, and Veena Sharma, CWU Women's Rep, SW Region, said:
'We've already lost 63,000 jobs since the 2007 strike.
'We're doing twice the work that we used to do.
'They want to smash the union.
'All they want is us to do two people's jobs and not give any extra money for it.
'They've already cut our bonuses out – but the fat cats at the top still get their bonuses.
'We just want a deal that we can agree to and that won't be vetoed like they've done already.
'We've just got to show the government that we're not going to give in.
'If we have to we'll continue all the way to Christmas.'
CWU members from the SE No.5 branch at Gatwick Mail Centre were on the picket line from 4.00am yesterday, determined to fight the attack on the union and postal services.
Trevor Sparshott, Health and Safety Rep at Gatwick and organising secretary for SE No.5 branch, told News Line: 'We are striking, not over pay, but over our terms and conditions which are under attack.
'The government need to get off their backside, particularly Mandelson. At the end of the day, they cannot shirk their responsibilities and impose on us a dictatorial management with people like Crozier and Higson.
'Modernisation and pensions were not sorted out in the 2007 dispute so we have no choice but to take action against Royal Mail and the government.
'We should completely withdraw from the political levy as we get no satisfaction from this Labour government.'
Deputy night rep Tina Jones told News line: 'This is definitely make or break for us.
'They are looking to close this Mail Centre and transfer the work to either Twickenham or Croydon, and there is no way I am travelling to Twickenham every day.
'So our fight is still to come on that one.
'It's a fight for the union – it's our future because they want to casualise the workforce like they have abroad.
'There is one place, I think it's Holland, where they have agency offices right next to their Mail Centres and they just pick and choose who will work on the day, like it used to be on the docks here before it was unionised.'
Meanwhile, striker Peter Longhurst, speaking to News Line at the picket line at Croydon Mail Centre, said: 'The thing we've got to try and get across to the public is we, as a union, are not only fighting for our jobs and trying to secure our pension fund, but we're trying to defend the business for all the residents and businesses throughout the UK.
'Royal Mail used to have the best postal system in the world and I'd argue it still is today.
'But the service is being run down, not only by Royal Mail but by the government.
'Sunday collections were taken away by Royal Mail, with Royal Mail also cancelling the second delivery.
'Throughout the country there are masses of people suffering from bullying and harassment because the Royal Mail's attitude towards its workforce has completely changed.
'They no longer abide by national agreements.
'I would like ACAS involved and to have a totally independent review of what's happened in the post as well as what's going to happen to the business in the future.
'And the pensions deficit has got to be restored by government.'
Pickets were out early in the morning at Heathrow Mail Distribution Centre in Langley, near Slough.
CWU Area Processing Rep SS Sidhu told News Line: 'The problem is aggressive management policy, pushing things through without agreement.
'They've been trying to pick a fight, as leaked documents show.
'If they want a fight we'll make sure they get one.'
At the Princess Royal Distribution Centre in Willesden, CWU Rep Andy Wiffen told News Line: 'It is a disgrace that this government wants to destroy a government-owned company and its workforce.
'Mandelson makes me laugh when he says Royal Mail should be privatised.
'Who is going to buy a company which has a pension deficit currently at £8bn, probably £10bn by the end of the year.
'The government, Royal Mail and the union have not done enough to secure our pensions.
'They all talk about modernisation but we have a fantastic piece of kit, worth over £1 million for the tracking of mail that a number of big companies have subscribed to but has been standing unused for over a year because management can't be bothered to use it.'
Dereck, a CWU Rep at the giant Mount Pleasant office, told News Line as the strike got underway: 'Everybody is rock solid. Everybody is fully aware of what the consequences will be if we lose this dispute.
'The assets of Royal Mail are worth £28 billion.
'If you can break up Royal Mail and sell it off, the government and people like Crozier will benefit.
'I think the real agenda is to break up the Royal Mail, sell it off and walk away with a lump sum, like they did with the steel and coal industries.
'They are putting profit before service.
'This is the tip of the iceberg in destroying unions altogether.
'We'll welcome any support from other unions.'
Merlin Reader, CWU Area Rep EC deliveries, said: 'Brown and Mandelson should resign and sack Crozier.
'They are all out to downsize the industry, providing a worse service with high prices and worse jobs.
'They have complete contempt for working people.
'We need to up the action. We need more support.
'Camden Unison voted to donate £1,000.
'Everyone knows we are the first in line for a national dispute.'
Trade unionists from Tower Hamlets College came to support the picket in east London.
John McLoughlin, from Tower Hamlets College Unison branch, brought greetings to the postmen striking at the East London Mail Centre.
'Trade unions in Britain should be supporting you,' he said.
'Postal workers have never crossed picket lines and people hold you in high regard.
'The majority of people support you.
'You provide a vital public service.'
Richard McEwan, joint branch secretary of the UCU teachers union, said: 'We struck for 21 days at Tower Hamlets College to defend education and jobs and won!
'The management were threatening to cut education and at least 13 jobs – at our branch meeting we voted to twin with the CWU, support the strike and join the picket line.'
Johnny Ayres, CWU Area Distribution Rep at East London, said: 'My message to my members is to remain strong and resolute.
'We will win this dispute.
'We are after achieving a national agreement that safeguards full-time jobs within the industry.
'At the moment we are seeing levels of bullying and harassment against our members that after 31 years working in this industry I never thought imaginable.
'Mandelson is behind that. He is in cahoots with Royal Mail.
'He has an axe to grind with the CWU and postmen and women after our successful campaign to defeat privatisation.
'There will be further action announced for next week.
'We would want the whole of the public sector striking.
'Our fight today will be their fight tomorrow.'
East London Mail Centre CWU member Lil Jordansaid: 'Things are so bad now it's them or us.
'They are treating us like children, you have to ask permission to go to the toilet.
'They are watching us all the time.
'The strike breakers can do what they want.
'This has got to be won. We will be out of a job otherwise.'
'We need all-out action all over the country.'
There was a brazier and CWU branch banner on the picket line at the Greenford Mail Centre in west London.
CWU Rep Vinod told News Line: 'Our office is very good – 95 per cent solid.
'Bullying and intimidation has to stop. We are very determined and clear about the strike and what it's about.
'We want all the trade unions to support us.'
Kevin Dommett said: 'The government and Royal Mail are in cahoots.
'Basically, they can't sell the business with the union in situ, so they are out to smash the CWU – that's it in a nutshell.
'They want to take on and smash the union.
'Other unions are going to have to show solidarity with the CWU and take strike action alongside us.
'BA workers are going to have to strike now to defend their rights.
'We're all in the same fight.
'This is a test case. If management get away with this then there will be a backlash of almighty proportions for the trade union movement.
'That's why there has got to be solidarity action to support us.
'I've been in the job 32 years and there's never been such bullying and intimidation as there is now.
'We have to take up this fight now and not postpone it until after Christmas. It's now that we're strong and it's now that we can win.'
Greenford Mail Centre CWU Area Processing Rep, Geoff Loftus, said: 'Mandelson, Crozier and Higson can't be trusted. They are doing everything to ramp things up, it's a disgrace.
'Postmen and postwomen don't want confrontation, but we've been left with no choice.
'We have been forced into taking on Royal Mail and the government because of their bullying and intimidation and their attempt to smash the CWU.'