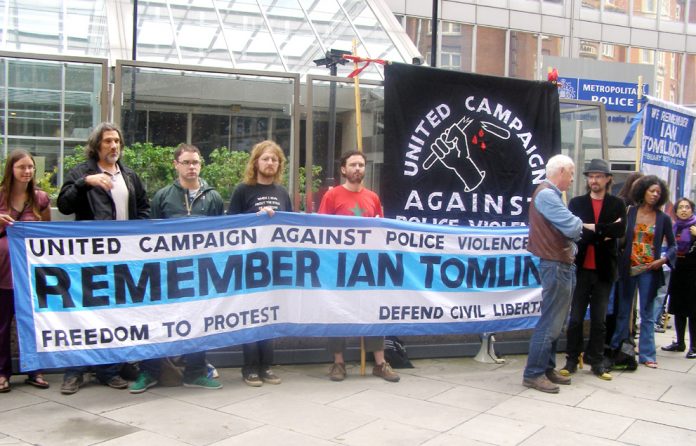 UPSET and angry relatives reacted bitterly to the news yesterday that there will be no charges over the death of Ian Tomlinson during the police operation at the G20 protests last year.
After waiting almost 16 months for a decision, Ian Tomlinson's family said charges should have been brought by the Crown Prosecution Service (CPS).
'We have to go home now to no dad. It's aged us. The weight we've lost,' his stepson Paul King told reporters.
When one reporter asked what the family would do now, Ian Tomlinson's widow Julia replied angrily: 'What do you expect us to do? What can we do?'
A demonstration was staged later yesterday – the fifth anniversary of the brutal police shooting of Jean Charles de Menezes – outside New Scotland Yard. Relatives of Jean Charles de Menezes joined the picket alongside the banner of the Justice For Ian Tomlinson campaign and the United Campaign Against Police Violence.
Jean Charles de Menezes' cousin Vivien Menezes Figueiredo told News Line: 'I think it is very important to be side by side with the supporters of Ian Tomlinson's family. We had the same experience. Ian Tomlinson was an innocent bystander, not even a protester.'
Later on she addressed the crowd that had gathered, saying: 'I am very sorry to hear no police officer has been charged. It is very disappointing that the police can commit crimes and they can get away with it. We shall fight for justice to stop things like this ever happening again.'
Erionaldo da Silva said: 'We've been through hell for five years. The Tomlinsons must not give up fighting for justice.'
Marcia Rigg said: 'We are outraged at this decision. There are so many cases like this and the police go unpunished.'
Chris Butler said: 'I was at the G20 protests. I was kettled for six hours and despite asking politely many times to leave, the police refused this. I was not surprised that Ian Tomlinson was killed. How can anyone have faith in the police force that is only answerable to the state and not the public?'
A protester from the United Campaign Against Police Violence said: 'Since the late 60s' over 1,000 people had died in police custody. She said: 'We will not rest until we get justice.'
Ian Tomlinson's family were informed of the CPS decision not to bring charges against a police officer by the Director of Public Prosecutions, Keir Starmer.
Answering questions from reporters afterwards, stepson Paul King said: 'It's been a big cover-up and they're incompetent. Sixteen months, no charge. If this Keir's just admitted that the police officer assaulted our dad, why isn't there an assault charge. Nothing.
'Words can't describe how we feel. We feel very let down, very disappointed. We're just the other people that have been bumped off and another copper's been let off.'
Another member of the family said: 'At the end of the day if we don't get justice what chance has anyone else got of getting it? All the evidence should have put this police officer away, got him off the street.'