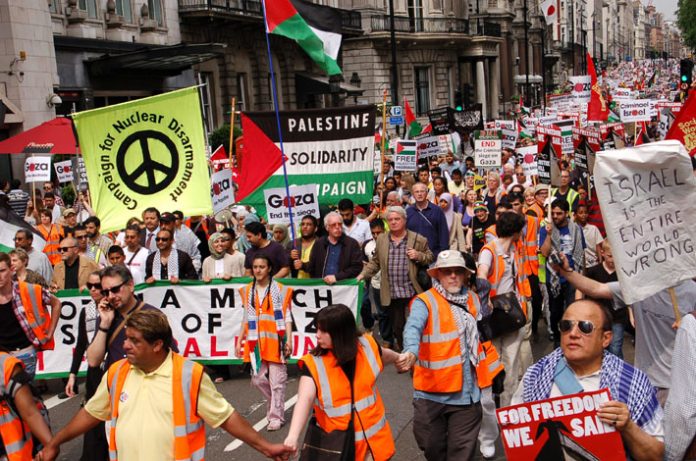 THE largest aid convoy yet is on its way to the besieged Gaza Strip, four months after the massacre of activists by Israeli forces who attacked the 'Mavi Marmara' aid ship in international waters.
Former anti-war MP George Galloway, long-time supporter of the Palestinian people, first announced plans for the 'Viva Palestina' aid mission in June, shortly after attending the funerals of the Turkish activists murdered aboard the 'Mavi Marmara'.
The London leg of the fifth 'Viva Palestina' convoy set off on Saturday.
Delegations from Australia, New Zealand, Malaysia, Canada and the United States arrived in London to join the convoy, which will travel through Europe to Turkey and then Syria, before reaching Egypt.
From there, they hope to be allowed to drive into Gaza.
About 450 vehicles are participating in the mission. Vehicles are coming from countries including Britain, Qatar, Kuwait, Algeria, Tunisia and Morocco.
Fifty trucks from Algeria will join the European convoy when it reaches Syria in October.
A Jordanian workers' union is also sending 50 truckloads of aid.
Lebanon and Mauritania are also sending aid with the convoy.
Kevin Ovenden, who survived the Israeli assault on the 'Mavi Marmara', is among those who have joined the convoy.
'Our mission last time was to take aid in and to highlight the siege. That's our mission this time,' he said.
Recalling the attack on the 'Mavi Marmara' in May, he said: 'I witnessed the man one metre in front of me being shot in the leg, a man 50 centimetres to the right of me being shot through the abdomen.
'Neither of them had anything in their hands.
'There were no Israeli commandos within the immediate proximity.
'They were shot from above, so it was simply unfeasible – in that incident I saw – for anyone to claim they were in fear for their lives when they rang out those shots.'
In January this year, the Egyptian authorities banned George Galloway from using their territory for Gaza-bound convoys and accused Viva Palestina of criminal activity.
Announcing the new aid mission, Galloway pointed out that the siege on Gaza has been condemned by every major international aid agency, by the European Union, the United Nations and governments the world over, but still Israel keeps the siege in force.
• Egyptian authorities on Saturday declared a state of emergency on its border with Gaza.
The state of emergency was declared after the Egyptian authorities claimed that their forces monitoring tunnels under the border saw Palestinians trying to escape from Gaza into Egypt.
Egyptian police also claimed that they stopped an attempt to smuggle cars into Gaza after a recent decision to allow cars in was cancelled by Israel.
The tunnels are used to try and get fuel, food, medicines and other necessities to the besieged Palestinian people.