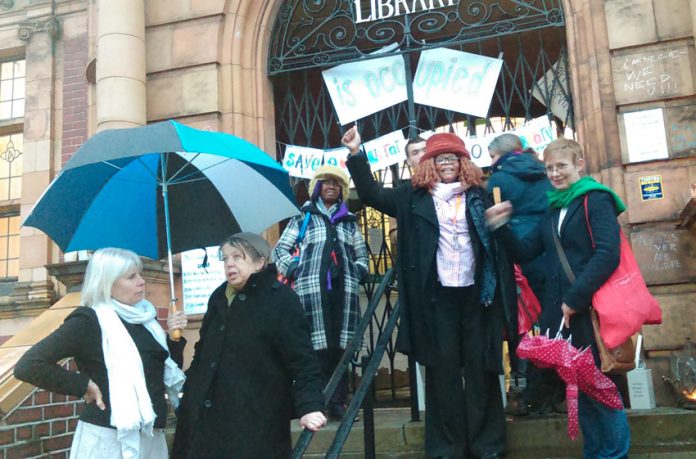 CARNEGIE Library in Herne Hill, south London, is occupied. Over 30 people, including campaigners, supporters and local people have been in occupation since Lambeth Council officially closed the library last Thursday, 31st March, along with four other libraries in the borough.
One of the occupiers, Robert Gibson, chair of Upper Norwood Library Campaign and Friends of Lambeth Libraries, spoke to News Line on Saturday. He said: 'We've been here since Thursday. We were driven to this unusual and dramatic action by the gross failure of Lambeth Council to listen to its residents.
'We expected they should listen to and respect the communities, whose assets they are responsible for. Friends of Lambeth Libraries, along with Lambeth's Head of Library Services, Susanna Barnes, worked out a plan which would have delivered the savings they are looking for but still retained professionally staffed library services across all ten libraries in the borough.
'Instead, the council just railroaded this through. We've been driven to this action by the arrogance of the council. "Mr and Mrs Decent" and their kids have had enough. This is demonstrated by the 30-plus adults and children who are now conducting the occupation. We are here as long as it takes.
'We are very grateful to local businesses and local people generally who have supported us by bringing all kinds of food. We've had 20,000 signatures on a petition, we've had marches, we've been to council cabinet meetings, council meetings – and all of this has been ignored in favour of handing over the library to turn it into a gym with a few books and no library staff.'
Local resident Janet Rainford was outside the library campaigning. She told News Line: 'This is our children's future which the council is trying to destroy. When I was made redundant some years ago, I came here to learn the computer and I got a good job out of it. I've just tweeted my daughter, an international cricketer, because it was her library too.'
Another local resident Jamil Mohideen said: 'I have been here every day helping the occupation. It's a crime to close the library down. Libraries are central for education, culture and knowledge. I think the government and the council don't want people to be educated. This library ran literacy programmes and chess clubs for children. If we allow it to close all that will be lost.'