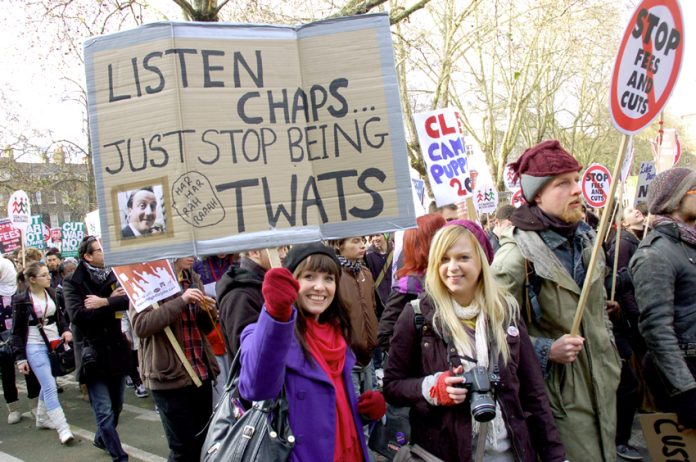 WE'RE here over Christmas,' BA painting student Tobias Newbigin said at the occupation of the Camberwell College of Art yesterday.
The occupation of the Wilson Road site of the college, which is part of the University of the Arts London (UAL), was begun on Monday by around 60 students, with the support of all other students at the south London college.
Two huge colourful banners saying 'Occupied' and 'CAMBERWELL AGAINST CUTS' are draped outside on the wall of the college along the busy Camberwell Road.
Tobias said: 'One week ago I was oblivious to the situation and unsure of what my political views were, but now I know I want to make a difference.
'From UAL we are demanding more teaching and less closures.
We're going to be in occupation throughout the Christmas holidays.'
Jasper Nketiah, 1st Year illustration undergraduate, said: 'There are iconic moments in history and what's going on now is one of them.
'The world is changing. Young people are trying to change the system as we see it for the better.'
Catarina Couceiro, a sculpture 2nd year student, said: 'The present student action is just the beginning.
'On Monday, when we began our occupation there were 19 universities occupied, by yesterday there were 29.'
Frankie Pulleyne, a 2nd year BA photography student, said: 'I think it gets misunderstood that we're only protesting about tuition fees.
'But we're also protesting about everything else that's going wrong, everything else this government is doing.
'If they can make a snap decision to triple tuition fees, they can do everything wrong. It's scary.
'What are they going to do next, to the health service, and all public services and spending?
'They are going to cut everything.'