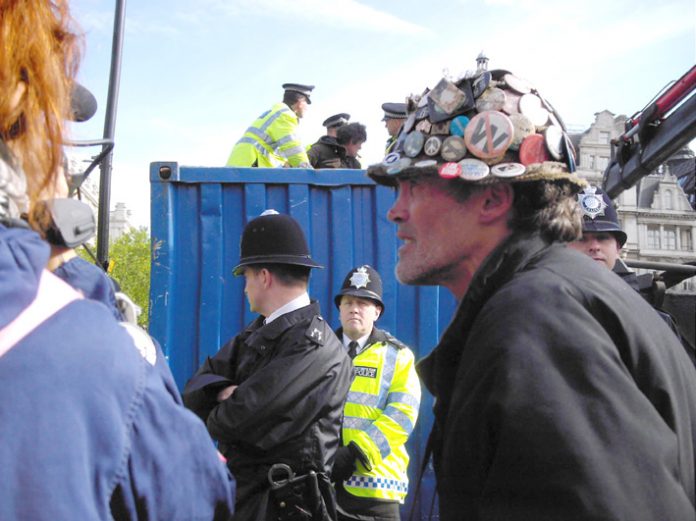 'We won, as we should have done, because it was wrong and the police were wrong', anti-war protester Brian Haw declared to cheering supporters after winning his latest legal battle to maintain his demonstration in Parliament Square.
Police claimed Haw, 57, from Redditch, Worcestershire, posed a threat as terrorists could hide bombs under his many banners and placards.
But District Judge Quentin Purdy said he had not breached conditions imposed on him by the Metropolitan Police under the new Serious Organised Crime and Police Act (Socpa), which puts limits on demonstrations within one kilometre of the Houses of Parliament.
The new law rules that all demonstrations in that area need police permission.
The judge said the imposed conditions were not legitimate as they should have been ordered by Metropolitan Police Commissioner Ian Blair, rather than an officer from a lower rank.
Judge Purdy said: 'I find the Commissioner cannot delegate his powers under Socpa as he purported to do.
'Additionally I find the conditions drafted as they are lack clarity and are not workable in their current form.'
Haw has held a continuous vigil outside Parliament since 2 June 2001.
He had won a legal ruling that as his vigil pre-dated the law, it did not apply to him. However, that decision was overturned by the Court of Appeal.
A police officer put restrictions on him, under Socpa, on 8 May 2006 which included limiting his protest to within an area three metres wide by three metres high and one metre deep.
On 23 May last year about 90 per cent of placards erected by Haw were seized in a pre-dawn police raid. The Metropolitan Police claimed he had breached the conditions.
Haw continued his protest but with a much reduced presence opposite the Houses of Parliament, as the police took him to court for breaching the conditions.
At a previous hearing at Marylebone Magistrates' Court, police said they imposed the order as they feared terrorists could plant bombs in them without Haw knowing.