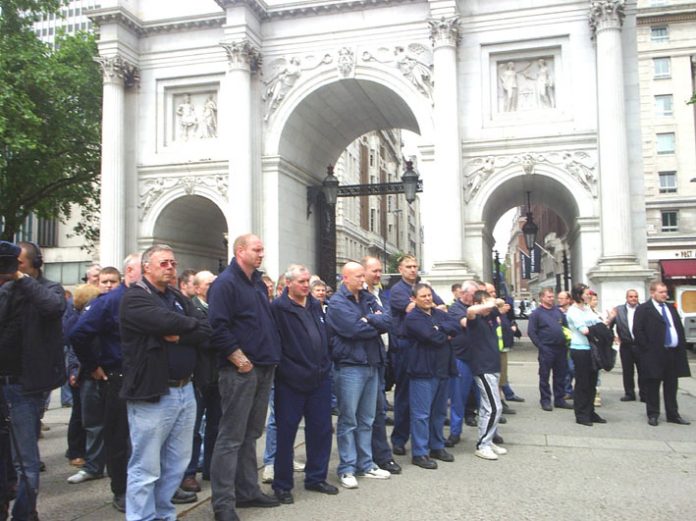 ANGRY road hauliers yesterday spelled out exactly what they will do when the government tries to ignore their huge protest convoys against soaring fuel costs in London and Cardiff.
They warned Prime Minister Brown: cut 20p to 25p per litre duty, or ports and oil refineries will be blockaded 'within a week'.
They scorned the idea that a Brown 'U-turn' over the introduction of a 2p fuel duty increase in October would pacify them.
Andrew Spence, one of the leaders of the 2000 People's Fuel Lobby, told News Line: 'After speaking to a number of hauliers yesterday I feel there are a lot of fellows who are very, very angry and desperate. People are determined to do something and achieve something.
'When the prime minister changes his itinerary and goes to Scotland to meet people – the movers and the shakers in the oil industry, as he has today – it shows he knows what's coming round the corner.
'I'm fairly sure there will be blockades as there were in 2000.
'My committee in the northeast had seven pretty well-known and respected hauliers in 2000, now there are only three left.
'While I have been on the phone to you I have just sold my last wagon, so that's the end of my haulage business – after four generations.
'I'm sick of the government hiding behind green issues. If you want your cornflakes on your dish in the morning, how the hell are you going to get them there without transport? Nobody is mentioning the alternatives.
'There will be blockades within one week, that is the timetable set by Michael Green, one of the Welsh hauliers who blocked Cardiff yesterday.'
David Hanley, Chairman of Farmers for Action, said: 'It's very simple, we're back in a situation very similar to 2000, where we've got a prime minister who's not listening to what the people have been saying over the issue of fuel costs and the effects that is having on everyday life.
'That was Tony Blair's big mistake, you all know what the outcome of that was – a massive fuel protest, and without a doubt we are now just weeks away from some form of major protest.
'I think the question of blockades are just weeks away unless Gordon Brown is prepared to give some direction to those affected. If global oil prices are going to continue to rise he's got to make a cut in fuel duty.
'I think you'll find they'll backtrack on the 2p increase very quickly, but the issue is the current fuel duty. The issue is what we are having to pay at the pumps today.
'You are starting to see insolvency and bankruptcy on a daily basis, so we can't do nothing. There has got to be some direction. They were voted in to lead the country and they have to show leadership.
'From where I'm sitting at the moment I'm not seeing much of it.'
Mick Clifton, a lorry driver from Lincolnshire, said: 'It's getting to the stage now where it's got to get tougher. Brown's not listening to simple protests, so it's going to have to get to blockading.
'He keeps saying that it's a worldwide thing where everyone is paying higher prices, but no-one pays the taxes we have to pay, down where I'm from it's £1.30 a litre.'
Mike Greene, leader of the protests in Wales, said that, unless the government agreed to the rebate within seven days, lorries would blockade refineries and ports.