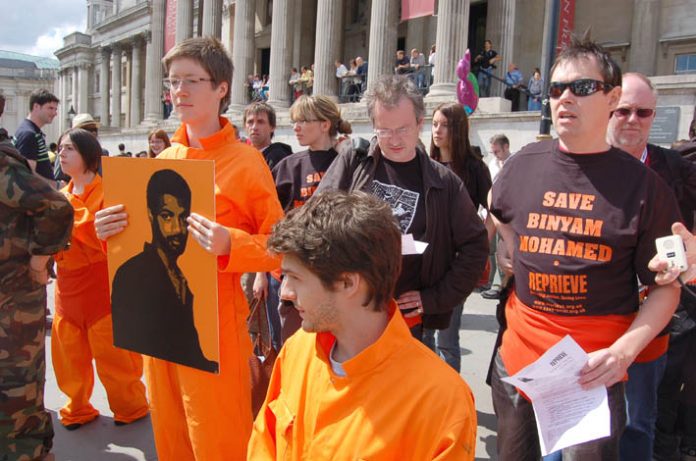 A team of British officials have travelled to Guantanamo Bay, Cuba, to visit detainee Binyam Mohamed and make preparations for his expected release.
A Scotland Yard doctor on Saturday visited him at Guantánamo's Camp Delta to ascertain whether he was fit enough to fly home.
Mohamed, an Ethiopian-born British resident, was arrested in Pakistan in 2002 before being taken to Morocco and Afghanistan, where he was tortured before being secretly flown on to the US detention camp on Cuba.
He is still being held at Guantanamo despite charges against him being dropped last year.
He has been on hunger strike against his detention and conditions at the camp and is feared close to death.
Mohamed has refugee status in the UK and his legal representatives hope he will be cleared for release and return to Britain within days by a review ordered by President Barack Obama.
A Foreign Office spokesman said on Saturday: 'A team of British officials have left Miami airport today to visit Mr Binyam Mohamed in Guantanamo Bay.
'The visit will make preparations for his return, should the ongoing US review into Guantanamo Bay detainees confirm a decision to release him.'
After visiting her client a fortnight ago, US military lawyer Lieutenant Colonel Yvonne Bradley was so concerned about Mohammed's condition she flew to Britain last Thursday for a meeting with UK Foreign Secretary David Miliband.
She told Miliband that her client was 'skin and bone' and there was a danger that 'we will be bringing him out in a coffin'.
After meeting with Bradley last Thursday afternoon, Miliband issued a statement in which he said: 'We want him to be released as soon as possible.'
Meanwhile, it has emerged that the Foreign Office had solicited the letter from the US State Department which judges cited as reason not to make public evidence of Mohamed's torture, and his allegation that MI5 officers were present during it, to be made public.
Last week, high court judges Lord Justice Thomas and Mr Justice Lloyd Jones refused to order the disclosure of a summary of US reports on his detention, citing a US threat to intelligence-sharing with Britain.
But a former senior State Department official has said that it was the Foreign Office that initiated the gagging of information by asking the State Department to send the letter so that it could be introduced into the court proceedings.
The US official said: 'Far from being a threat, it was solicited. The Foreign Office asked for it in writing. They said: "Give us something in writing so that we can put it on the record.
'"If you give us a letter explaining you are opposed to this, then we can provide that to the court."'
Clive Stafford Smith, director of the legal charity Reprieve, which has been fighting to have the US evidence made public, said: 'With each twist and turn, it becomes obvious that the US and the UK have to release this information.'