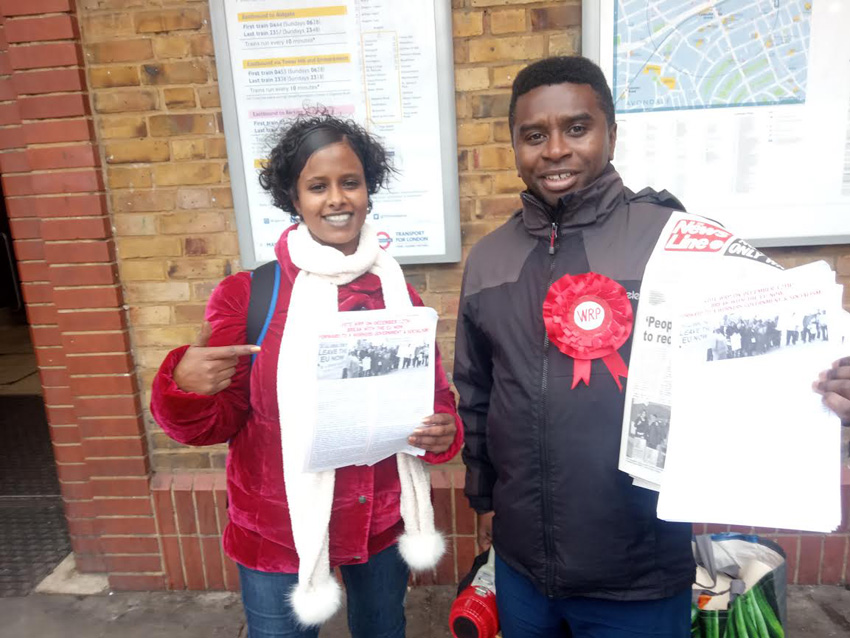 WRP PARLIAMENTARY CANDIDATE for Kensington, Scott Dore campaigning outside the busy Ladbroke Grove tube station yesterday gained the support of local residents.
Kathleen Jones who lives in Ladbroke Grove, read Scott's election poster and said: 'I agree with all of your demands. I will vote for you.
'I have had a lot of leaflets through the door but they are full of their rubbish.
'I will take your leaflets to the bingo tonight and tell them about you.'
Daniella McAvell said: 'I agree with your policy to keep the privateers out of the NHS, and agree with you on jailing those responsible for putting the cladding on Grenfell.
'Firefighters were not to blame – the council and the government were responsible.'
Bee Allen from Manchester said: 'I can't vote for you but I will join your party because I am disgusted with the politicians on parliament.
'Corbyn is the best of the bunch but he doesn't look like he will change anything.
'There are people homeless, dying on the streets.
'Young people turn to drugs because the system ignores them, older people are not being cared for.'
JESSICA told the Camberwell and Peckham campaign team led by WRP parliamentary candidate, Joshua Ogunleye: 'I am a working mother with five children in a two-bedroom property.
'My housing condition is terrible, urgent repairs need to be done. I've gone to the local labour MP for help and she couldn't even see me. I am so fed up with all the politicians and don't really have time for them in this election. They are not listening to us.
'I agree with the WRP's policy of building more council housing. It makes sense people need housing, the government should be building housing.'
Campaigning outside North Middlesex Hospital, Tottenham Parliamentary candidate Frank Sweeney's team talked to workers and people visiting the hospital.
GEORGE who works in one of the clinics there told News Line about the effects of NHS cuts: 'since they cut funding for the nurses bursaries there is a shortage of nurses here in this hospital. We are short of staff across the whole hospital which puts pressure on all the nurses.
'If you look on the website there are 44,000 nursing vacancies across the country so it is not safe for patients on the wards because if there are not enough nurses they don't get the care they need. Patients appointments keep getting cancelled because there are not enough doctors as well as nurses so we can't fit them all in.'
David Taylor from Hull, who was working at the hospital, was very pleased to meet the team as he was in agreement about Brexit, he told News Line: 'A revolution is long overdue, the EU is a scam, it's a super national corporation leeching money off the countries that are tied in with it.'
EALING Southall Workers Revolutionary Party (WRP) candidate Hassan Zulkifal rallied dozens of workers to sign up to join his campaign as he spoke on the megaphone on Southall Broadway yesterday.
Dalvir Alhuwali, a healthcare assistant said: 'I'm voting for Hassan and the WRP because they support the Palestinian struggle.
'I'm also voting for Hassan because he promises to look after Southall, where Labour MP Sharma has allowed so many closures in the past few years, including maternity and paediatrics at Ealing Hospital and the jobcentre too. He's allowing the town to be run down.'
WRP candidate Hassan Zulkifal said: 'People literally queued up to join our campaign. They are roused by our message of international working class struggle.'