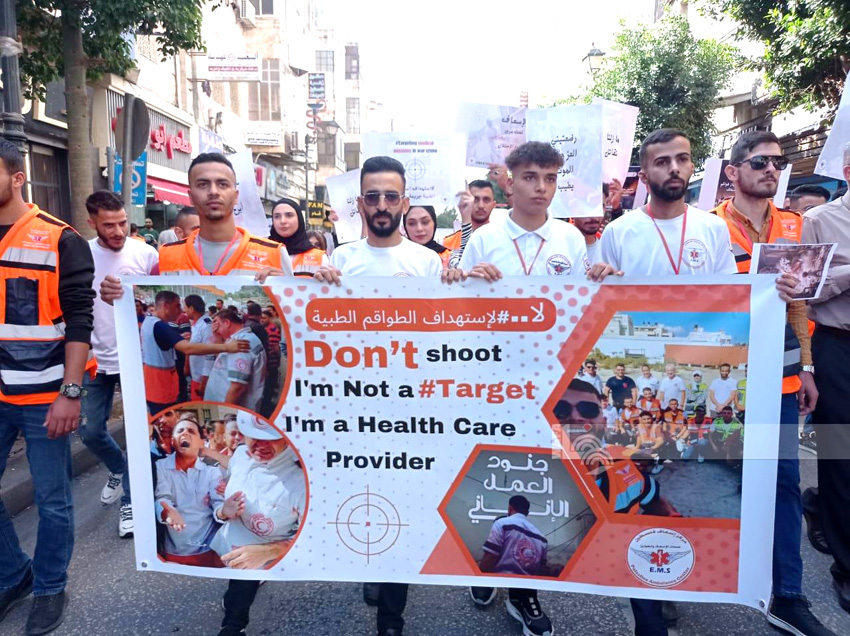 US PRESIDENT Biden left Washington yesterday evening for Tel Aviv, where he is to meet Netanyahu and other Israeli politicians before flying to Amman in Jordan for talks with King Abdullah, Egyptian President Al-Sisi, and Palestinian President Abbas.
The US Department of Defence said 2,000 military personnel are on a 'heightened state of readiness' due to the evolving security situation in the Middle East.
US State Department Deputy Press Secretary Sabrina Singh said the deployment of the Gerald R Ford carrier strike group, which is nearing the end of its six-month deployment to the US European Command area, has been extended.
US officials say moving the carrier group to the eastern Mediterranean region is aimed at deterring Hezbollah and Iran from 'taking advantage' of the continuing Israel-Gaza war.
Abu Ubaida, spokesman for the Hamas movement's military wing, the al-Qassam Brigades, warned yesterday: 'Threatening us with ground invasion does not intimidate us, and we are ready to deal with any brutal force.
'Gaza will only be a graveyard for its invaders and its sands will swallow you up. We tell the enemy that your entry (into Gaza) will be a new opportunity (for us) to hold you accountable for the crimes that you are committing against us.'
Some 1,200 people, among them about 500 children, are trapped under the rubble in Gaza, according to the health authorities.
'So many times medics say they hear victims scream, but they cannot do anything about it,' said Mohammed Abu Selmia, general director of Shifa Hospital, Gaza's biggest medical centre.
Hezbollah said four of its fighters had been killed in southern Lebanon in clashes with Israeli forces yesterday.
Israeli forces used 'lethal force without justification' when they shot and killed Al Jazeera journalist Shireen Abu Akleh in the occupied West Bank in May 2022, violating her 'right to life', according to a new report by the UN Independent International Commission of Inquiry.
'The killing of Shireen Abu Akleh in Jenin is a direct result of Israel's militarisation of law enforcement operations in the West Bank, including East Jerusalem,' said Navi Pillay, Chair of the Commission.
'Shireen Abu Akleh is another victim of the excessive and disproportionate force used by Israeli security forces in these operations. This was also an attack against journalists, who were all clearly identifiable, which is a recurring pattern identified by the Commission.'
Israeli 'war on whole Palestinian people'
'What we are seeing right now is not a war on Hamas but a war on the whole Palestinian people,' Palestinian Ambassador to the UK, Husam Zomlat told a press conference in London yesterday afternoon.
'We know that medical staff, medical teams, have been targeted by air strikes. You can see the images. So we can say that the health sector in Gaza is collapsing, absolutely collapsing. And please follow the WHO (World Health Organisation), follow the international organisations, they have been warning of an imminent complete collapse of the health sector…
'There are hundreds, if not thousands buried as we speak under rubble. 13 journalists have been killed. More than 1,000 children have been killed so far in Gaza, let that number sink in, 1000 children.
'Gaza's population is young, as you know. Of the 2.3 million Palestinians in Gaza there are 1.1 million children. 50 families have been wiped out completely, off the record. The sad fact is a Palestinian is being killed every five minutes…
'Two days ago 70 people fleeing the north for the supposed safety of the south were killed on the road by Israeli jets. Yesterday 71 Palestinians were killed in the supposed safety of Gaza south by Israeli airstrikes.
'What do you do if you are in a wheelchair in such a situation in the Gaza Strip? What do you do if you need dialysis or have cancer treatment scheduled?
'Hospitals have been targeted, bombarded. Medical staff, doctors, nurses have been targeted. Even the dead are unprotected. Bodies have been stored in ice cream vans because morgues are overwhelmed and overflowing. Mass graves have been dug.
'What Israel is doing amounts to clear conducting collective punishmment and all of the above acts are war crimes and crimes against humanity.
'What we need urgently right now is an immediate, immediate ceasefire. We need humanitarian corridors to bring the aid now, bring the medicines, food and water to people. We reject completely the population transfer of our people in Gaza and the attempted transfer and mass expulsion to Egypt.
'We will not allow another round of mass ethnic cleansing in Palestine. We will not allow a second Nakba.'
• See editorial