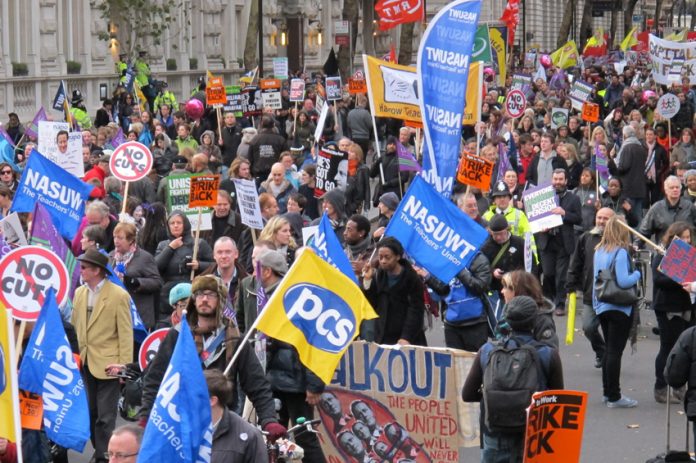 Trade unions yesterday condemned the Cameron government's just-announced decision to press ahead with increasing the pension contributions of public service workers from April 2012.
Teachers union NASUWT general secretary Chris Keates said: 'Choosing to announce the increase in contributions in the final hours before the national discussions on pension changes have concluded is unnecessarily  provocative but regrettably such ill-timed announcements have been a feature of this sorry saga.
'The increase in contributions is not to support the funding of the teachers' or other public service workers' pension schemes, it is simply to raise money for the Exchequer. It is a wholly unjustified tax on teachers.
'The DfE statement seeks to minimise the financial impact by conveniently ignoring that these additional financial penalties follow the Chancellor's Autumn statement in which he announced a continuation of the pay freeze for a further two years.
'In the same statement,  the Chancellor callously dismissed alternative strategies which would prevent the continuing misery of job loss, pay cuts and spiralling cost of living experienced by public and private sector workers.'
the Public and Commercial Servants union (PCS) said: 'The government has announced today that it intends to ignore the "vast majority" of respondents to its consultation who rejected the need to increase pensions contributions for civil servants.'
The proposals are unnecessary and will do nothing to help public sector pension schemes, they are purely to raise money for the Treasury to pay off the deficit, it stressed.
The PCS said this is an unfair and unacceptable tax on public sector workers and is committed to continuing to oppose it.
A civil servant on an average salary of £23,760 would lose almost £1,500 next year through the increase in contributions and the public sector pay freeze alone, a 6.2% fall in their living standards.
PCS general secretary Mark Serwotka said: 'We remain committed to the negotiations and will continue to attend all meetings, but ministers only appear to be interested in imposing an unfair and entirely unnecessary tax on people working in the public sector.
'Every single penny raised from contributions would go to the Treasury to pay off the deficit. We remain fundamentally opposed to public servants being forced to pay more and work longer for less in retirement.'
Rehana Azam, GMB national officer for GMB members covered by the Civil Service pension arrangements, said: 'While talks are continuing on scheme reform, the Cabinet Office announcement of increases to member contributions from April is deeply unhelpful to the ongoing discussions, which are still under way.
'Government claims that the increases are fair but not a penny will help secure members' benefits, and the impact of tax relief means that some lower paid members will actually be hit harder than those on higher incomes. GMB will be working in the scheme discussions to ensure that members are not priced out of pension saving.'
end