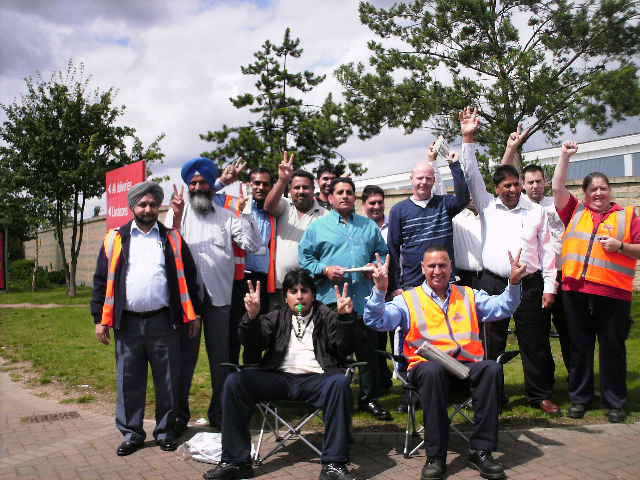 Yesterday workers at Royal Mail's Heathrow Airport Worldwide Distribution Centre at Langley came out on 24-hour strike at noon, as part of the Communication Workers Union campaign of rolling action.
The union is fighting against a wage-cutting pay settlement and attempts by Royal Mail management to smash up their conditions, their pensions and sack 40,000.
Later, at 7.00pm tens of thousands of postmen walked out at Royal Mail delivery offices and workers at separate collection hubs across the country also walked out in a 24-hour action.
CWU member, Raza Mahoob, speaking to News Line on the picket line at Langley yesterday afternoon, said: 'This is a bonded warehouse with import and export mail only.
'The workforce is with the union, 100 per cent,' he added.
'We want decent pay, decent pensions and security in the future.
'We want all-out action and a united front across the public sector unions.
'We've had enough of this top-level management with its porky pies.
'Leighton and Crozier say there's no money in the kitty, but they've just handed £4 million bonuses to managers.
'Interest rates have gone up and mortgages.
'I haven't got a mortgage because I'm a council tenant, but my rent has gone up £15 a week.
'My holiday's gone out of the window, I've got four children and I'm the only breadwinner.
'We are all very, very angry.
'No one likes to come out on strike. Every time we come out we are losing £70 plus and we've lost £210 so far.
'But we have to win.'
Fellow Langley CWU member Ravi Singh said: 'I've been a postman for ten years and before that I worked here on this same site for nine years when Ford was here.
'Two thousand lost their jobs when Ford's closed, now they want to get rid of at least 100 workers here and bring in people on six-month contracts.
'They don't want any of us here, they want everyone to be part-time, casual workers, and that's what they would like to do across Royal Mail.
'It's happening with us now. Next it will be nurses and teachers.
'The unions must call us all out together for a national strike.'
CWU area rep, Danny Sullivan, told News Line: 'It's very solid here. In our office they want to cut the workforce by approximately 150.
'We're negotiating with them locally, but they won't negotiate nationally.
'Is Brown involved? Of course he is! He's Allan Leighton's boss.'
CWU member Bal Atwal said: 'We will win. There is great unity. What the union is doing is correct.
'What management means by modernisation is the total destruction of the service and the conditions of staff.
'This place itself here is an international place and we should be setting better standards.
'The company, instead of praising our high standards, is constantly rubbishing us and never appreciates what is happening in this place.
'I've worked for British Airways and saw how sections were privatised, like the catering at Gate Gourmet, and security, and how standards went totally to pot. It's the same with the post office.
'There should be all-out strike action to win this quickly and bring in other public sector unions as well.'