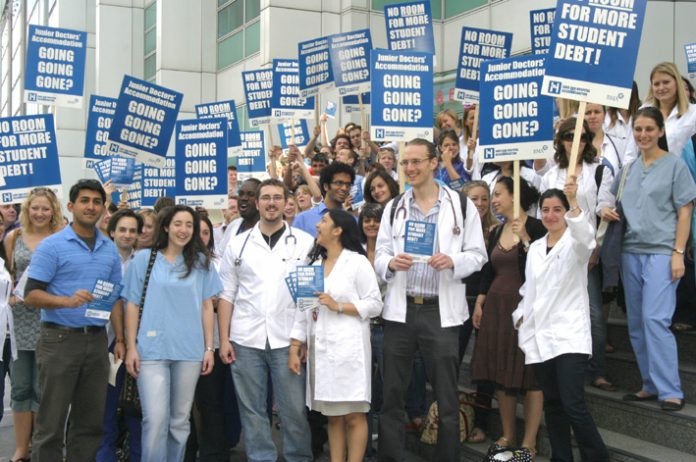 Over 200 medical students, with placards saying 'No room for more student debt' and 'Junior doctors accommodation – going, going, gone', demonstrated in central London yesterday.
The protest on the steps of University College London Hospital was one of a number of lunchtime demonstrations across the country, organised by the British Medical Association (BMA).
Victoria Nowak, BMA medical students representative for University College London, told News Line: 'We want to raise awareness of the plight of newly qualified doctors whose entitlement to free accommodation has been suddenly removed.
'This amounts to a 20% pay cut in the context of record levels of student debt.
'We are concerned that this will deter applicants from lower socio-economic backgrounds from entering medicine.'
Final year medical student Hoda Hosseini added: 'Current and future medical students are increasingly being put under pressure by changes in the medical training programme.
'We're all here to voice our anger at the removal of free accommodation and the increasing costs associated with the course.
'Everyone has to struggle against anything they believe is unjust.'
Third year medical student Dan Swerdlow is clinical president elect for Royal Free medical school and UCL medical school for 2008/09.
He said: 'We are concerned that not only are they reducing junior doctors' salaries, but they are also removing their free accommodation, which is a further cut in pay.'
Claire Capshaw, UCL final year medical student, added: 'I'm very upset.
'I'm graduating on £40,000 of debt. The starting pay for a doctor is £20,000 a year basic.
'You are moving to a new city to find work, so you have to find new housing.
'Having free accommodation in the hospital for the first year when you are all working long hours is really a huge financial help.
'To take that away essentially means a £5,000 pay cut out of first-year wages.
'We have to fight this with the support of the BMA.'
Third year medical student Alex Ashman agreed, saying: 'Really it's about pay. Cutting accommodation means cutting pay.'