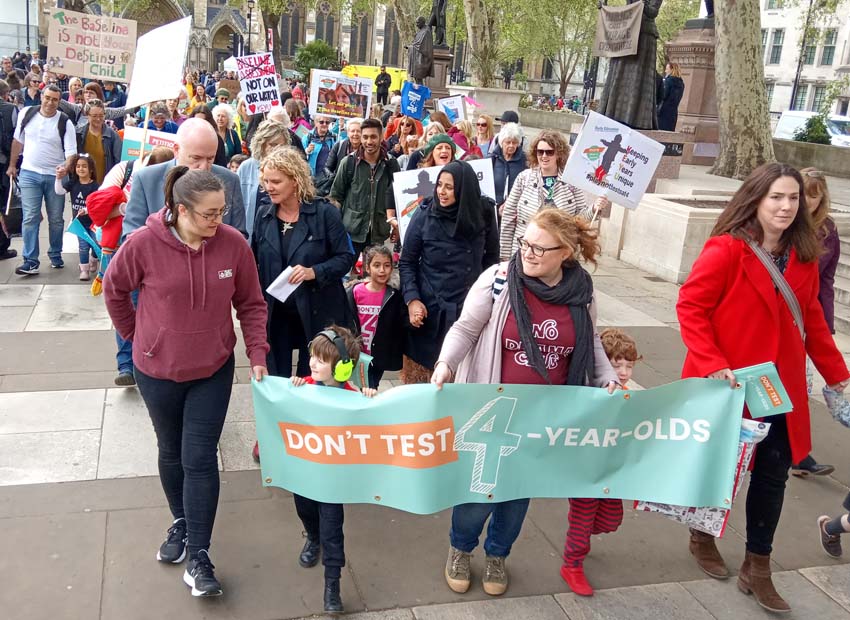 NINETY seven percent of 54,000 primary school teachers polled are opposed to the SATs exams, their union the National Education Union reports today, the day that the hated SATs exam results are released.
The results will be analysed and the union's National Executive will discuss them on Saturday 13 July before deciding the next steps in the campaign to change the current assessment regime, with a nationwide strike an option remaining on the table, NEU said.
Commenting on the result of the indicative ballot, Kevin Courtney, Joint General Secretary of the National Education Union, said: 'The NEU's indicative ballot of primary school members shows there is resounding support for a change to primary assessment. Labour, the Liberal Democrats and the Green Party all have major concerns about our SATs-dominated system and have pledged to change it.
'Government now needs to listen, and to accept the need to change a culture in which too many classrooms are dominated by teaching to the test, at the expense of the learning and wellbeing of our children.'
Meanwhile, campaign group 'More than a Score' are stepping up their fight to stop children as young as four being forced to sit tests. They are targeting Tory Schools Standards Minister Nick Gibb.
'More than a Score' said: 'The Department for Education plans to spend £10 million making England the first country in the world to put four-year-old children through exams. Overwhelmingly the evidence, and consensus from experts around the world, says these kinds of tests on young children are both pointless and damaging.
'If so-called Baseline Assessment goes ahead in 2020, every four-year-old will be tested in their first six weeks in school, using a 20-minute one-to-one test. The results will inevitably be unreliable, as two previous expensive and abandoned trials proved.
'At four years old, children are just too young for this kind of high-stakes testing.'
Labour has also targeted Gibb, after he admitted yesterday that he hasn't got a clue how many schools are potential firetraps with combustible wooden cladding.
Shadow Children's Minister Steve Reed raised concerns with the Department for Education after parents approached him with worries about wood cladding at a school in his Croydon North constituency, in South London.
But Gibb told him: 'The department has made no specific assessment of the fire safety risk posed by timber cladding on school buildings.
'And it does not hold figures on the number of schools in England that have timber cladding.'
Reed hit back: 'There's no inclination to even find out whether children are in danger. We need a full review.
'We might be sending children to schools day after day which are a serious risk. Yet we cannot get any information as to whether children are safe.'