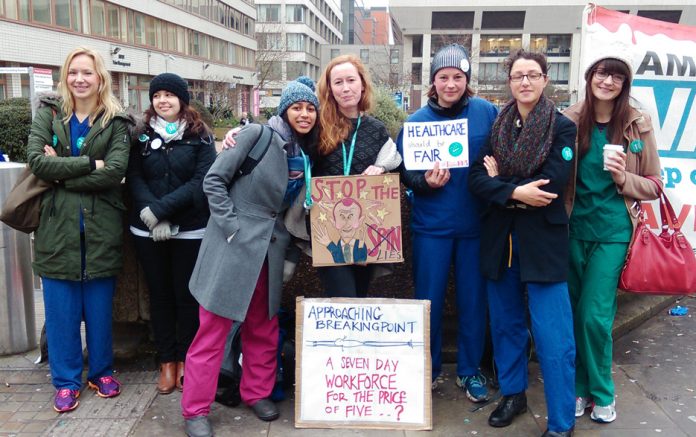 SEVEN-day-GP access was rolled out yesterday across the whole of London, despite warnings from doctors that GP services are already stretched to breaking point.
GP services are facing a major funding crisis, which is forcing surgery after surgery to close, while others are so short staffed they are having to close their lists to new patients.
Tory Health Secretary Hunt made it his cornerstone policy to bring in seven-day-access to GP surgeries, despite health professionals across the NHS insisting that with the current savage cuts, brought in by Hunt and the Tory government, seven-day-access is unworkable.
Dr Richard Vautrey, BMA GP committee chair, said: 'There is an urgent need to address the significant pressure being caused from rising workload, tightening budgets and staff shortages, which are pushing many GP services to breaking point.'
BMA Council chair Dr Chaand Nagpaul said: 'The government's plans for extending opening hours are in disarray'. He added: 'With the NHS at breaking point, GPs have repeatedly warned funding should to be targeted at improving weekday access, where demand is greatest.'
Pilots have proved to be disastrous. In the trial areas where weekend and evening appointments were offered to patients, very few patients actually took them up. The lowest fill rates for appointments were for a scheme in the Wembley area of Brent in north-west London, with only 2% of Sunday appointments and 8% of those on Saturday taken up.
Royal College of GPs chair Professor Helen Stokes-Lampard said: 'This backs up what the College has said for some time – routine GP services, seven days a week are wanted by a small proportion of patients, and are a luxury the NHS just cannot afford.
'It's now time to ensure routine and out-of-hours services are properly resourced and better integrated so we can deliver the care patients do want, when they need it.' Anna Athow, BMA London Region deputy chair said: 'GPs cannot cope at the moment due to massive underfunding and shortage of numbers and burnout. This has come up at the BMA's London Medical Committee (LMC) conference year after year, and is reaching crunch point.
'Clearly the government are going to be paying expensive short-term locums, who do not know the patients and are relying on electronic patient records to do this work.
'This fait accompli serves the government's purpose to lay down the thin end of the wedge for 24-hour services in primary care that the government is determined to drive as it moves to bring in private providers. This is a dangerous short-term fix, which will not benefit patients and will undermine NHS general practice.'
Meanwhile, over a third of practices (37%) will close their lists to new patients in the near future, a new survey of GPs revealed earlier in the week. When asked whether their practice has looked at the option of temporary list closure over the past year, 9% of 500 GP respondents said they 'have already done it'.