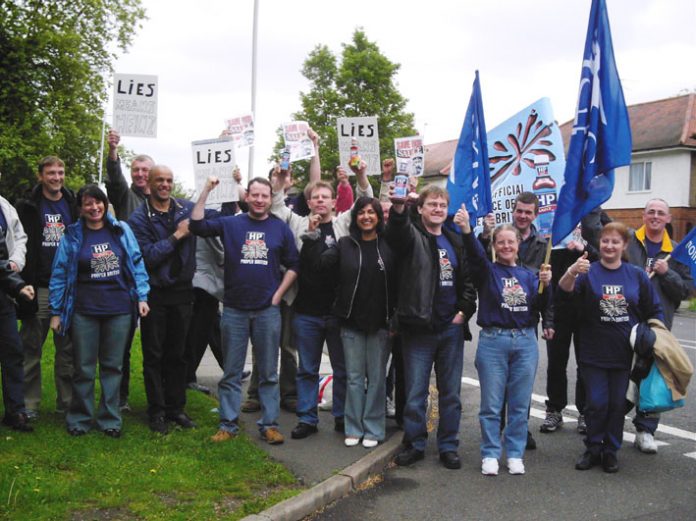 Angry sack-threatened workers from the HP Sauce factory in Aston, Birmingham were yesterday stopped from protesting at the parent company Heinz headquarters in Hayes, west London.
Twenty Transport and General Workers Union members had travelled down to London by minibus to protest at the recently-announced closure of the Midlands factory by next year, with the loss of 125 jobs.
But they were prevented from entering the grounds of the Heinz plant by security officers.
Senior TGWU shop steward Zeff Qurreshi told News Line: 'Many of these colleagues have just come off a twelve-hour shift, travelled hundreds of miles and will be back on a 12-hour shift tonight.
'They should be allowed in to make their point.
'There's no reason to shut this factory. We haven't missed the profit budget target since 1985.
'They've got a factory with extra capacity in Holland and they want to close our factory in Aston Cross and move production there. It is 57 varieties of corporate greed.
'The average length of service is over 20 years with some approaching 40 years. Whole families work there.
'We will do whatever it takes to defend our jobs.
'We need to mobilise the people in this country to defend every job.'
Susan Hoey said: 'We've travelled hundreds of miles to do a friendly protest and they won't even let us past the gate.
'It's our lives that are being spoiled. It shows that they are worried about what we are going to do.'
Kully Rai added: 'We should occupy the factory and stop them taking the machines out.'
Tony Purkes said: 'HP makes an awful lot of money. Back at the factory, they are still working today. We have to protect our jobs.'
Steve Fincher added: 'We've all been there for a long time.
'They are planning to close the factory which has been making sauce for over 100 years. We can't understand why they want to close it down. It's making money.
'We got the news two weeks ago – 125 jobs to go but many more will be affected, suppliers etc.'