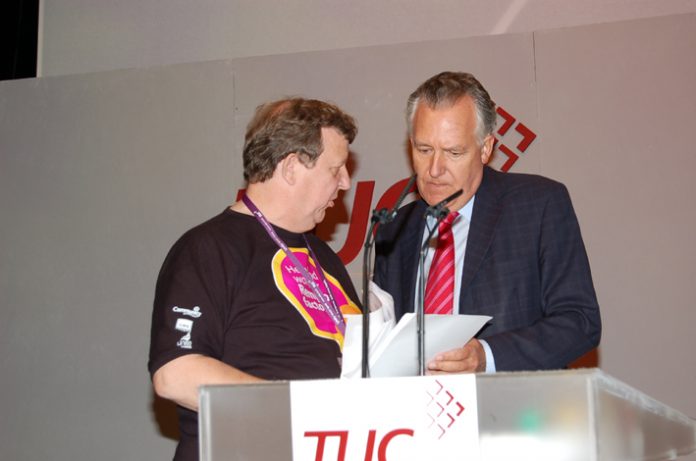 The GMB trade union yesterday slammed 'failed Remploy management' over plans to close 28 factories for disabled workers.
Responding to proposals from Remploy management, GMB General Secretary Paul Kenny, on behalf of the Remploy Consortium of Trades Unions, said: 'At the Labour Party Conference the government agreed a new direction based on "choice" for disabled workers, using public procurement to generate a steady workload to secure the future of the Remploy factories as allowed under EU rules.
'Last week the (House of Commons) Trade and industry Select Committee endorsed this approach.
'Yet a mere six weeks later we have the absolute disgrace of a failed response from a failed management putting forward, in public, proposals which completely ignore what was agreed at Bournemouth that will lead to the sacking of over 2,000 disabled workers.
'The picture that emerges with these proposals is that of senior people ingrained in the school of management incompetence, beset by rigidity, completely lacking in vision and only begrudgingly being prepared to tackle the waste of money and excessive overheads that is dragging Remploy into losses.
'This is the management that said 43 factories had to go; now they say it is 28.
'They know that they are jumping the gun with these proposals and putting themselves out on a limb.
'They are well aware that the Secretary of State told the Labour Party Conference that "I have also made clear to Remploy management that no factory closures will take place without the agreement of government ministers."
'The very idea that this failed Remploy management could put forward proposals to the Secretary of State to secure Remploy's future is just as ludicrous as the idea that a manager who failed at Hartlepool FC was the right person to manage Liverpool in the Champions League. It is a total nonsense.
'On Wednesday the Remploy trades unions will unveil the set of proposals, based on what was agreed at Bournemouth, that we will submit to the Secretary of State.
'Dialogue will now move to the Department of Work and Pensions.
'It is highly unlikely that any agreed plan will see a major role for the authors of these rubbish proposals.'